Bay Area Toy Company Uses Recycled Plastic Milk Jugs To Make Toys.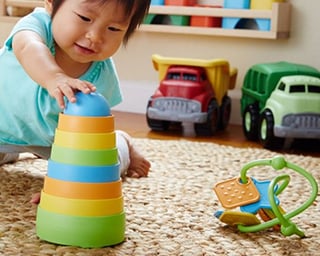 It's not very often you hear of a true recycling success story but Green Toys in Northern California is just that. They make durable toys for children. Green toys is what every environmentally conscious innovative company should strive to be – Profitable. It's not just the profit that matters to them though. The entire ethos of the company is based on doing great things. From the design of the toy and the development of the child to "made and packaged in the USA" green toys is doing it right. So when you throw that plastic milk jug in the blue bin have confidence that it is going to a recycling center and beginning a journey of reformation into something else. There is a lot of data on plastic and it's important to know and acknowledge where you can buy "Made In The USA" from Recycled Content.
Recycling containers is important. The average American produces more than 4 pounds of waste per day and a quick google search will yield you the data that more than 1.5 pounds of that waste is recycled or composted. While those numbers on average are OK there are 2 simple steps corporate buyers and business operators can take to make them better.
Use food containers with recycled content.
Use food containers that are dishwasher safe and can be reused by consumers again.
Recycled / Recyclable Catering Supplies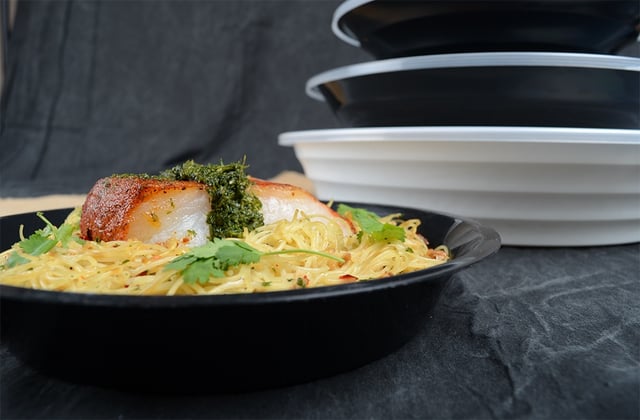 Another great recycling success story is the very company I work for – Fineline Settings. Fineline Settings manufactures recyclable catering bowls and trays using recycled content. The line is called ReForm and we like to think of it as having a "reforming effect" on the catering and food service industry. ReForm boasts the "Made in the USA" label but there's something much better and much more profound about this food packaging system – It's reusable by your consumers.
Reform's durability and useful life will far exceed the food that comes in it. Its design and sturdy construction not only provides sleek, functional, and table ready convenience it also provides a constant reminder of your great food which will increase reorder rates. Its an investment in your catering and food service business that will continue to work for you long after the food is enjoyed. And the best part is when the customer is done using it (hopefully again and again) it's recyclable again. It will begin a new journey to be reformed into something else. See what we did there?
Need some advice or great food service options that work for your business? Please feel free to send us a message and we'll reach out.