With warmer weather ahead of us, there are promises of sunny days for outdoor activities like this Americana picnic! It's always fun to spend time enjoying nature with family and friends and to bring along a packed picnic. I chose a historic old mill for the perfect backdrop to enjoy one of America's favorite outdoor pastimes. To make this even more fun, I used several partyware products from Fineline Settings to add nostalgia and ease into the picnic.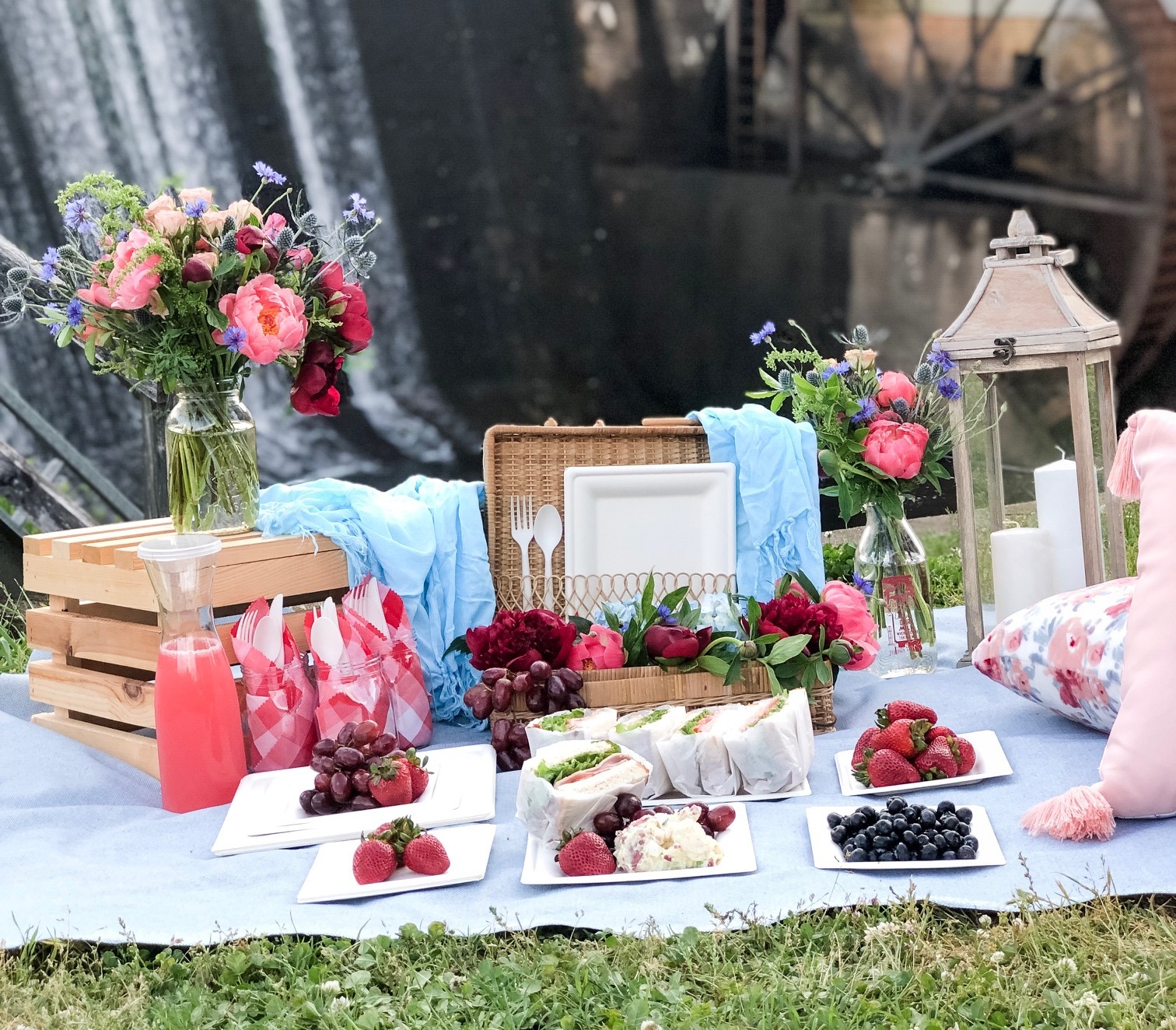 There is nothing more symbolic of America than the bold red, white, and blue colors of the American flag. These colors carry so much history, pride and unity. I wanted to use these colors in varying shades for a familiar but modern look. I chose a light blue picnic blanket for a bright and breezy vibe. To keep with tradition, I added a wooden crate, a lantern and a wicker picnic basket. A wicker picnic basket is another classic item that every exciting and nostalgic picnic needs. I tossed in a few throw pillows to make it more comfy and inviting. To top it off I added some flowers in shades of red, white, and blue to really make this beautiful and special.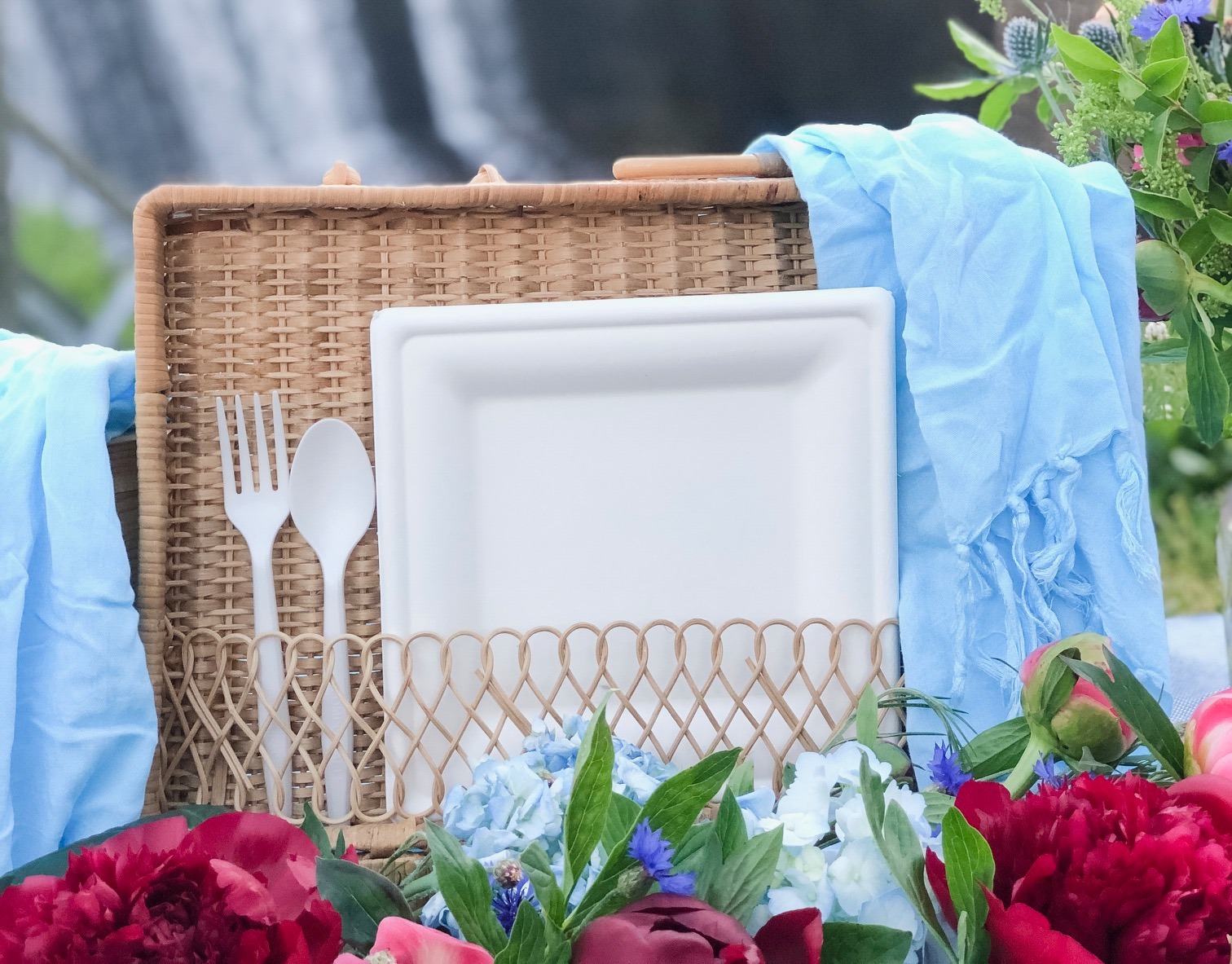 It's great to be outdoor, but the most exciting part of a picnic is the food of course! That's why I feel it's important to have wonderful partyware to serve the food. I used a 35 oz carafe to bottle up a delicious raspberry lemonade. Lemonade is another picnic staple and I like the coral color from the raspberries. I love that the carafe has a lid to keep the drink from spilling during travel. I also used the 16 oz mason jars for serving drinks. They come with a screw on top lid with a hole for the straw which will help minimize spills and keep bugs out. To make it more practical and fun, I took the lids off so I could place a classic red and white picnic napkin inside the jars. Then I put a knife, fork and spoon in each to make it easier to hand out during the picnic. I used the white disposable cutlery from the Conserveware line since they are biodegradable. If we happen to accidentally lose a few in the wild, we won't have to worry about harming the environment.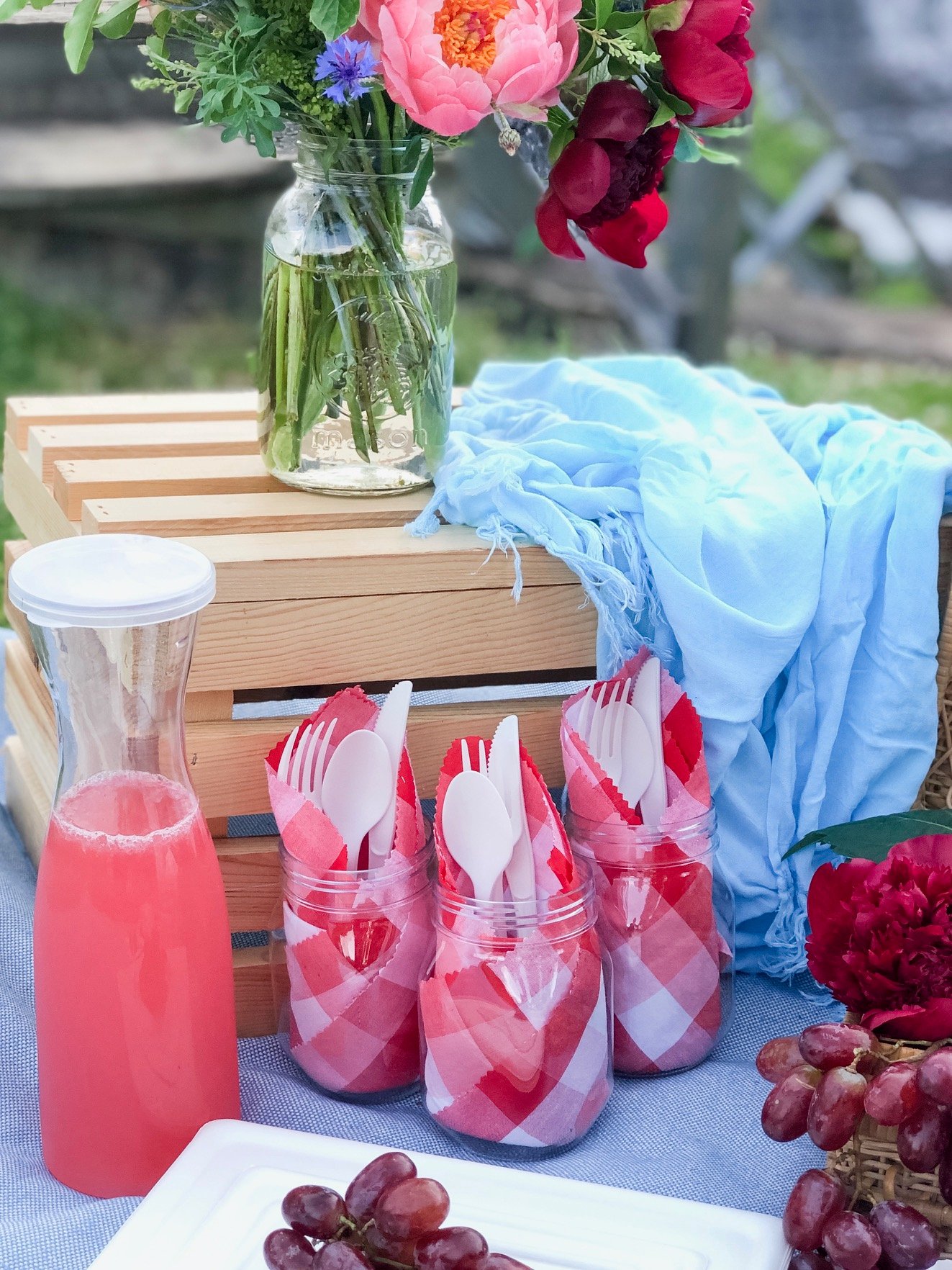 I also chose various sizes of plates from the Conserveware line for serving the food. They are available in several shapes and sizes, but I used the 10x5" rectangular plates, 10" square plates, 8" square plates, and 6" square plates. The rectangular plates are great for displaying food. I used one to serve classic ham and cheese sandwiches. This will make it easier for everyone to grab a sandwich for themselves. The 6" square plates were perfect for serving various fruits like strawberries and blueberries. I like how these berries are red and blue to keep with our theme. The 10" and 8" square plates are great for each person to take a little bit of everything for a delicious meal. Since these are disposable and biodegradable, cleanup is easy since they can be tossed in the trash and are environmentally friendly.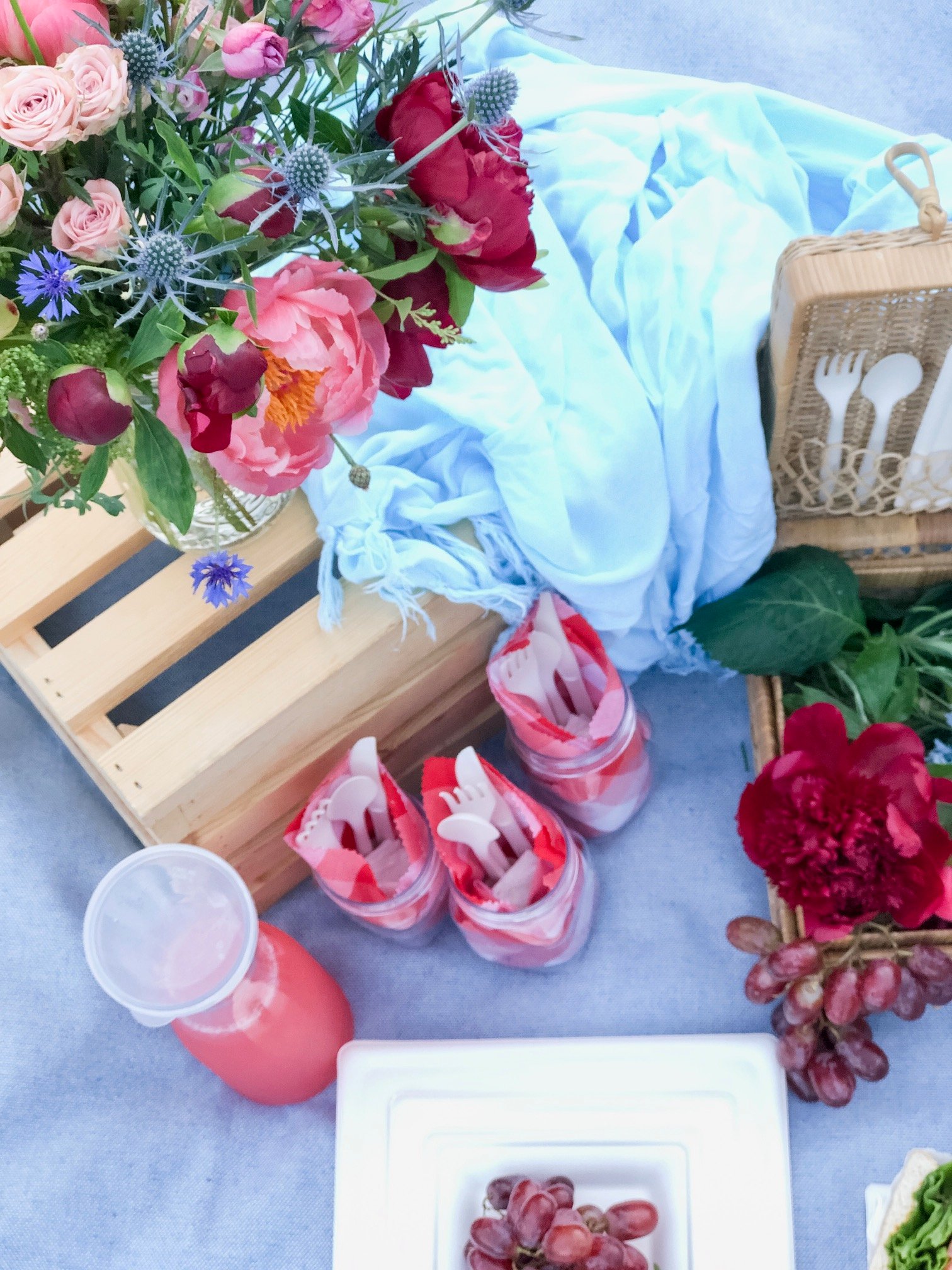 Memorial Day and Independence Day are coming up and are great reasons to gather with your loved ones and have a picnic. These holidays remind us to appreciate those who have served and is currently serving our country as well as be grateful for our freedom. Make these significant celebrations more memorable by having a red, white, and blue Americana picnic in the outdoor space of your choice. You can have even more fun by serving classic American picnic foods with fun drinkware and smart biodegradable plates and cutlery from Fineline Settings!