Happily, we are about to celebrate that very special gentleman in our lives who helped not only to give us life, but also has supported and loved us as we grew from impressionable little ones to independent and savvy grown-ups with a sense of style all our own.
Along with circling Daddy Day, we all may flinch a little when we see Friday 13th on our calendars as well; and maybe you can't resist that nagging feeling in the back of your mind as you avoid ladders and your sister's black cat while you're carry a rabbit's foot on your keychain!
As unlucky as the day may be known for, we know that you can handle anything as long as you have the right tools! So, let us help you take on even the most challenging events with the satisfaction of knowing you'll serve your guests with tableware that is as beautiful as fine china with the ease of disposable plastic dinnerware!
With Father's Day hurrying closer, Fineline Settings is here to help your event shine as you honor good ole' dad with our premium plastic tableware! June 15th is a day for your special man to sit back, relax and enjoy a party where we take the time to celebrate just what a remarkable man he is.
We know that in these recent years, time is a commodity that seems as though it is going extinct; and as we do our best to juggle even our basic day to day, when we see a holiday approaching, we can all admit there have been times we cringe knowing we now must try to secure the time to celebrate those that matter most. Fineline Settings is here to make sure your beautiful day is not hindered with the troubles of digging out the fine china and flatware.
You won't believe the time you'll save when you choose to entertain with one of our beautiful and distinct collections. Gone are the days where hours are spent polishing each fork and knife to perfection; never again will you groan as you imagine the aftermath of your party in the form of towers of dirty dishes and hours of work you just don't have the time for!
Our customers know that they will be able to celebrate the hard-working man who raised them to be who we are today with elegance and style without the inconvenience of traditional dinnerware again! Spend these special moments with daddy, not with dish soap.
Your father will delight in the stunning design of our Silver Splendor collection while he dines on that T-bone steak with a glistening fork and knife from Silver Secrets… and the best part? He'll never know that he is dining on fully disposable and fully recyclable premium dishware! A clean conscience has never looked this good!
Even though we give mom most of the credit for our sense of style, there is one thing that we cannot deny; and it is that our old man always taught us to do everything in the most efficient and quality way. Our hours spent watching his commitment to quality no matter whether he was changing a tire, building a tree house, or grilling up a few burgers for 4th of July did not go to waste on our staff. Just like he did, we tirelessly work to assure that quality and beauty can happily go hand in hand in every product we create!
But don't take our word for it, see for yourself!
Like we said, your friends here at Fineline are always here to help you save time so that you can spend those precious moments you've saved with the people you love, and not waste it tirelessly searching through a cookbook or on the internet for recipe and party ideas. So, that's why we've done it for you! Take a look at some of the awesome father's day-inspired dishes and party ideas we've managed to find and share with you!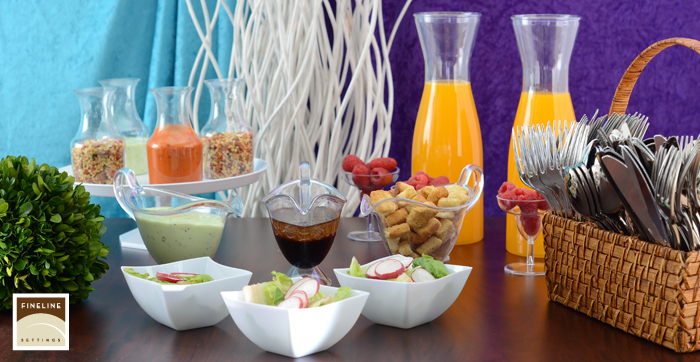 We found Kara's Party Ideas to be a fantastic resource for inspiration. Her fun and festive decoration ideas for dad will make him grin almost as much as the day you were born! We managed to find a few particular party ideas that seemed super fun and cute to honor dad and all he's done.
1) We know that dad is your hero, so take a look at Kara's post titled Superhero Birthday Party For Dad.
2) Catch up with the festive and funky mustache craze with Father & Son Mustache Bash!
3) And for those of you with baby boomers, take a look at the 1950's Dinner Party!
Our friend Sara Giboney is our hero as she shares some of the family recipes that have celebrated the special men in her family for years! We know that her post Let's Eat! Father's Day Recipes over on her Tumblr Sweet Success, will delight and fill-up even the brawniest fathers this years!
So, dear friends, happily brave Friday 13th knowing that nothing will stand in the way of your fabulous event! Serve your favorite guy a tall one in our 14 oz. Savvi Serve Tumblers, and take this precious day to remind him just how much he means to you; without the hassle of hours spent cleaning up!
Happy Father's Day to our Dads and yours!