Many students are going back to school later in the month and the Conserveware collection is ideal for packing lunch! The containers are biodegradable and come in various sizes and designs to perfectly pack an entire meal or individual portions. Matching wrapped compostable cutlery kits are also available. These products will minimize the spread of airborne illnesses through food and are environmentally safe. School cafeterias can pre-pack food for the lunch line or parents can use them for packing lunch from home.
There are several ways these containers can be used by schools to serve lunch. The 3 and 4 section square trays offer the flexibility to serve more or less options in prepackaged meals. These trays have lids that fit snugly over them for health and safety reasons. When you open the tray, it's like having a personal disposable bento box. Sometimes the way food is presented is half the fun of eating for kids.
Meals can be prepared and stacked in the lunch line for staff and students to easily pick up.
They also come in different sized hinged containers. Individual entrees or sides can be prepackaged in the smaller hinged containers to give students choices instead of having an entire prepackaged meal. These are great for salads, sandwiches, desserts, and other options.
Not only will these containers work for school cafeterias, parents can use them to pack lunch from home. Lunches from home can be personalized to make them even more fun for kids. Here, I made the sandwich and strawberries into ladybugs. I also added a few frosted animal crackers for an exciting treat.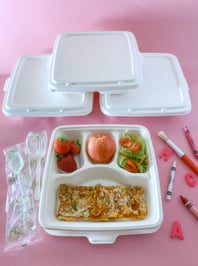 The sectioned trays are great for complete meals but space can be limited. The larger hinged containers are great for packing foods that are already individually wrapped. For example, a wrapped sandwich, individual portions of gelatin, yogurt and unpeeled fruit. The individually wrapped fork and spoon can be tossed into the lunch bag and will be clean when ready to use. They are also available in a kit with a fork, knife, spoon, and napkin.
With students returning to school, these biodegradable containers will help to reduce the spread of illnesses while being kind to the environment. They come in various sizes and designs beyond what I've mentioned for more packing options. Schools and parents both can use these containers in an effort to make lunch-time safer and more enjoyable for staff and students. Stay happy and healthy this school year!
Products used:
9" Square 3 Section Tray
9" Square 4 Section Tray
9" Square Flat Bagasse Lid
6"x6"x3.1" Square Hinged Container
8"x8"x2.5" Square Hinged Container
Wrapped Cutlery Kit, PSM
Individually Wrapped Fork, PSM
Individually Wrapped Spoon, PSM