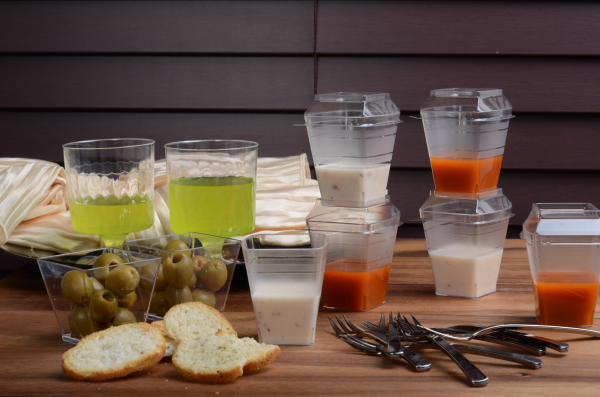 With the Holidays already in full motion, we bring you the perfect idea how to the cocktail and tasting table: mini individual samplers, plasticware, mini trays and easy-care platters that make entertaining a lot more fun. Tiny Temptations pieces are designed to let guests try a little of everything. But they're also classic, made of high gloss polystyrene plastic, so they look beautiful alone or mixed with pieces you already have.
The Tiny Temptations Collection is an amazing group of dishes that were inspired from high-end restaurants and glitzy Hollywood parties, where all the food is displayed with such quality and talent in a way that all the appetizer menus and small plate choices are available for everyone to sample the chef's best creations. These mini dishes can hold little salads, soups, mini casseroles or desserts sized just right for both cocktail parties or family tasting events.
These products are really great and always come in handy when you don't have to worry about one huge main dish to please everyone since this is only a small gathering of schmoozing and tasting mainly. Think how creative you can get with the menu. You name it - buffet, wine and cheese tastings, bridal showers, a game-day snack spread or elegant holiday party. Or all of the above, and this is valid all year long.
And whatever the occasion, you know everything works together. Tiny Temptations pieces create an impression in any setting. They're 100% recyclable and disposable so when your party is done just drop the whole mess in the trash without having to worry who will help wash the dishes.