Fineline Settings Mother's Day 2013 Guest Blog Post
Since May 8, 1914 when President Woodrow Wilson signed a Joint Resolution designating the second Sunday in May as Mother's Day, we've all looked forward to this late Spring holiday as an opportunity to show the mothers in our lives just how much we appreciate them and all they have done for us throughout our lives.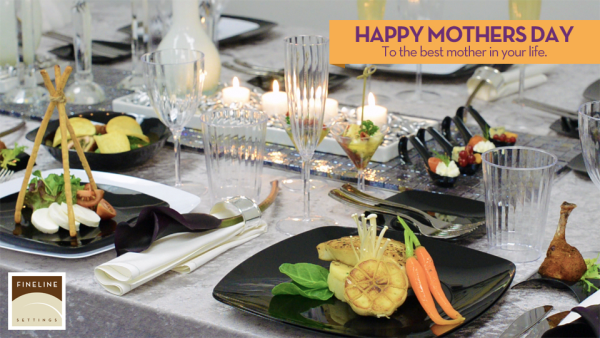 With moms foremost on our minds that day, a festive – and often large - family meal is in order and the last thing you want to worry about is the table settings. Fineline Settings complete line of upscale disposable table settings can help you keep the focus on the mom, the meal, and the celebration …. not on plates, glasses, and flatware.
Whether you start the meal off with a glass of champagne, iced tea, or any other cold beverage, Fineline has a full line of upscale champagne flutes, wineglasses, and tumblers to start your party off right. With champagne and wine glasses like our contemporary designed Wavetrends or our more classic Flairware, you'll be sure to make the perfect toast. Fineline's complete line of upscale disposable tumblers and stemware allows you to continue the festivities with your guests nearly forgetting that you're Fineline Settings upscale disposable beverageware…. not the good crystal.
Whether you sit down to a full meal or something a bit more casual, Fineline's upscale recyclable products are perfect to serve your meal on, as well. When the expectations are high, your guests will be impressed when you choose Fineline's Wavetrends dinnerware or our Renaissance Collection disposable china in classic white or their new colors. More casual affairs will right at home using our Flairware collection that sets a new standard in durable disposable dinnerware.
And, when the celebration is over, that's where you will really appreciate Fineline Settings disposability and recyclability. With easy cleanup, Fineline keeps the celebration going.
Fineline Settings allows you to keep the focus on family and the day of celebration and not on the dinnerware. We continue to set the standard for heavyweight dishes in quality construction and definitive design and transform every occasion into a celebration by ensuring all the convenience of plastic along with the sophistication of china.
So, on this Mother's Day, discover how easy it is to create a celebration that is a sensation and make sure your focus stays where it should be – honoring the lady who has meant so much to you.
Discover the Fineline difference.