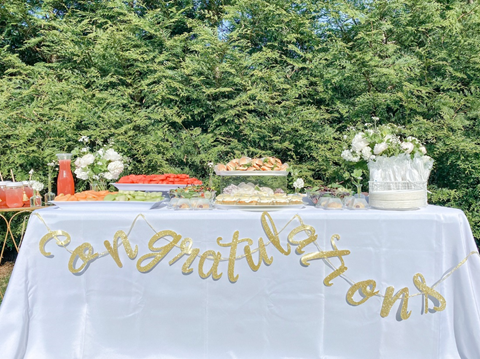 It's that time when years of school lead up to one day - graduation! We can all agree it's worth celebrating whether that's graduation from high school or higher education. Besides the graduate, we all know the other important part of a gathering is the food, of course! Fineline Settings has several caterware options to display beautiful platters and beverages for your guests to enjoy!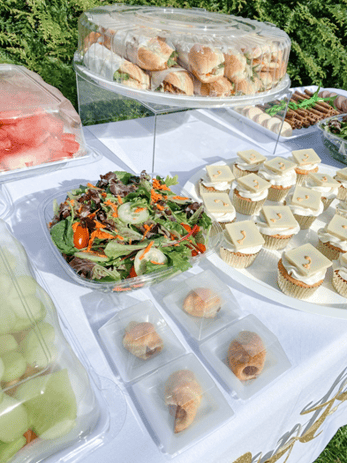 First of all, I really like how these platters and tiny plates come with a lid. They keep the food fresh until it's time for refreshments. Come along with me as we go through this spread together!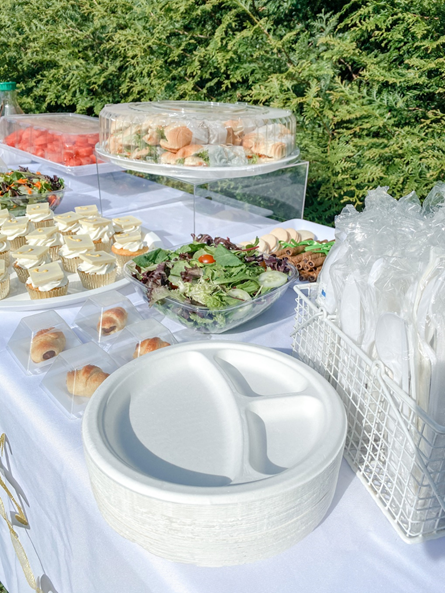 These biodegradable sectioned plates are great for keeping your food separate, making cleanup easy, and being earth friendly. The cutlery kits are conveniently prepackaged for sanitation and also makes it easier for guests to move through the line.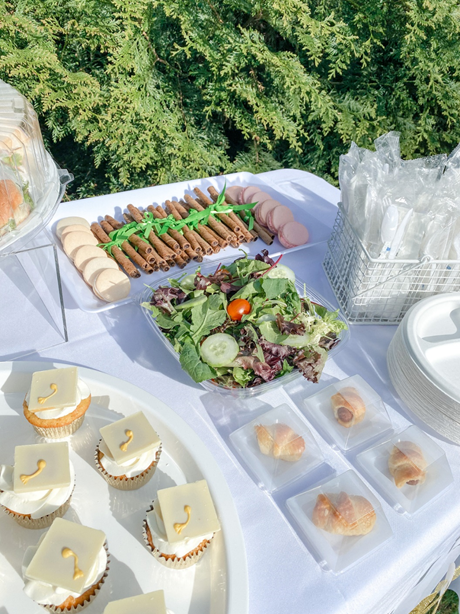 Beside the plates, we used 3"x3" tiny trays and lids for individual portions of pigs in a blanket. They look so cute and elegant in these containers. We used a couple of large clear bowls for a salad to go along with them. For something sweet, we used a rectangular platter for cookies. Since it's a graduation party, we made mini diplomas by tying ribbons around rolled cookies.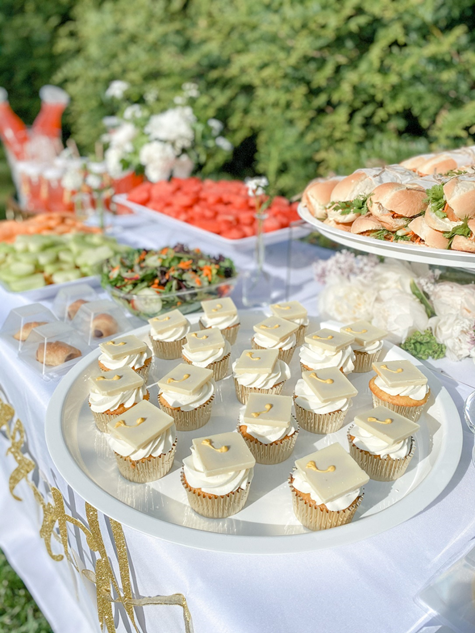 These large round platters are great for sweet or savory foods. Here, we served cupcakes topped off with graduation caps made by piping yellow tassels onto white chocolate squares. They look so sweet and elegant on this round white platter.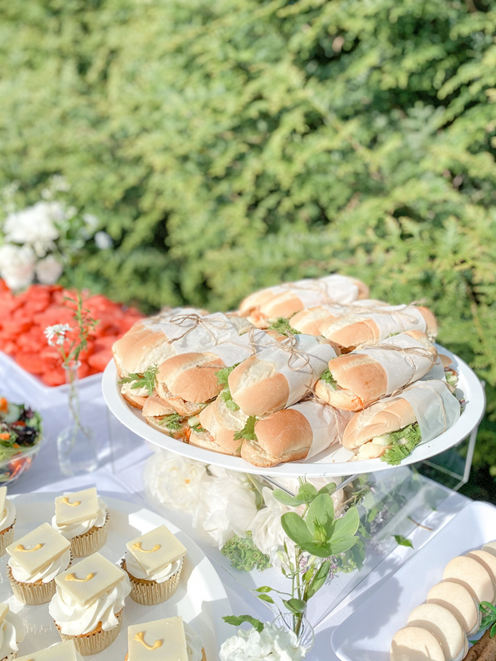 We also used another round white platter to serve our sandwiches. I like how the white platter makes the parchment wrapped sandwiches look fresh and tasty.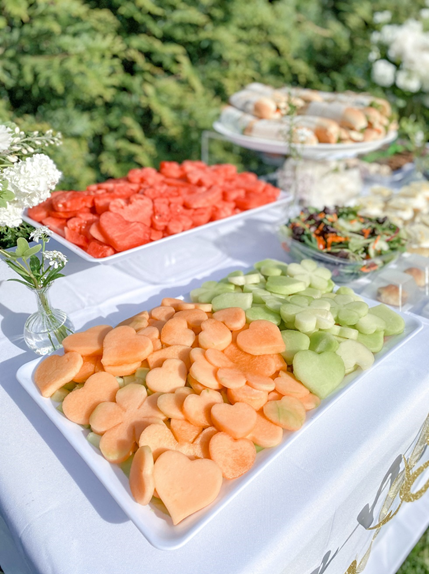 We used a couple more rectangular trays for serving a variety of fruits. Cutting them into hearts and flowers makes them more special since they are competing with cupcakes.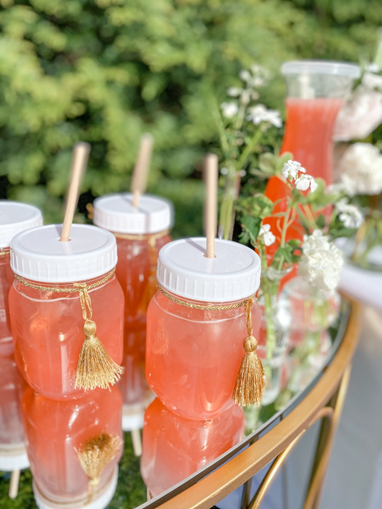 These mason jars are a delicious way to serve your drinks. I like how the lids come with a hole for a biodegradable straw. We made them more cheerful by adding a gold tassel to each one. For some reason, strawberry lemonade tastes much better out of these jars.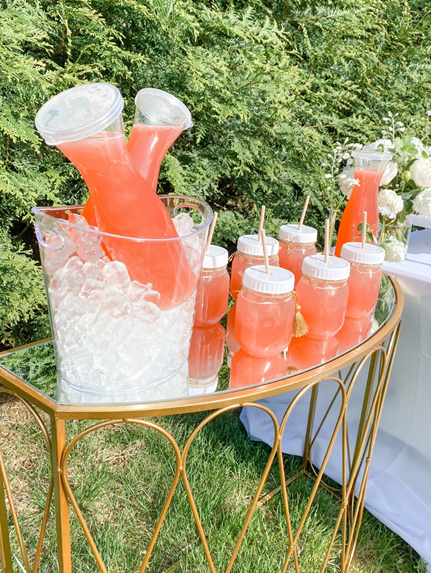 We used these beautiful carafes with lids to bottle up extra strawberry lemonade. I like how they are clear and make the drinks look refreshing. We kept the carafes on standby in a nice oval ice bucket.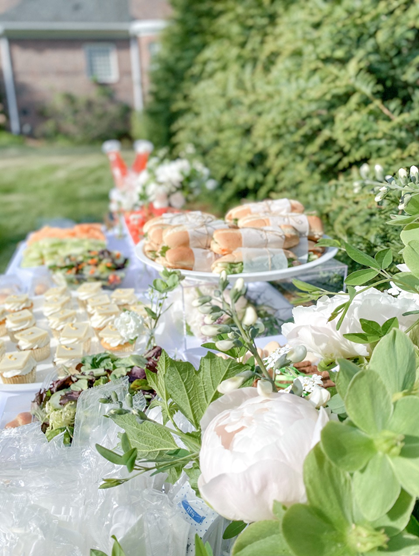 We completed our table with white and green floral arrangements. Fresh flowers are always the perfect accent for a special occasion!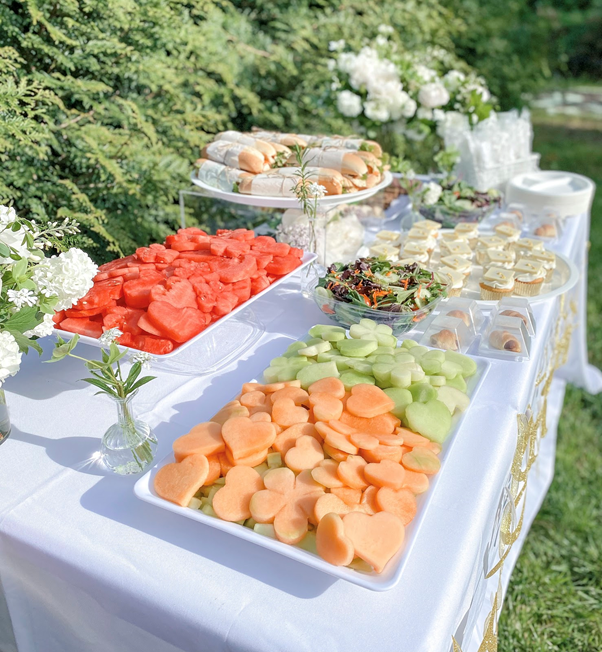 Graduation is an exciting time for a student and it needs to be celebrated! Get creative and serve their favorite foods on beautiful partyware to make it extra special. Make your graduation celebrations easy, gorgeous, and memorable with quality products from Fineline Settings! Congrats to all the graduates this year!
Products Used
Drinkware
16 oz Mason Jar
Large Mason Jar Lid with Hole
35 oz Carafe with Lid
1 Gallon Oval Ice Bucket
Kraft Paper Straws, Wrapped
Caterware
3"x3" Tiny Trays
3"x3" Tiny Dome Lid
64 oz Large Bowl
18" High Rim Platter
18" Dome Lid with Nesting Ring
12"x18" Rectangular Tray
18"X12" Rectangular Dome Lid
Conserveware 9"- 3 Section Round Plates
Reform Cutlery Kits