As a response to the food service industry's ever growing demand for compostable products, Fineline Settings introduces the Conserveware collection! Conserveware is a natural molded fiber material made from sugarcane pulp called bagasse. Operators who have built their brand on appealing to Earth conscious consumers will find the Conserveware product line to be the perfect solution for all of their packaging needs. The molded fiber material can handle the heat of hot foods, is microwavable, freezable and will compost within BPI standards.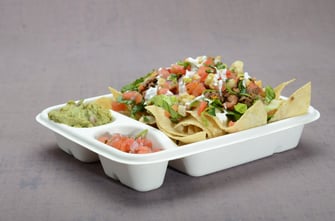 What makes our introduction truly unique is the innovation we are adding to the Conserveware line. Fineline has introduced square, oval and rectangle bowls, as well as the traditional round plates and hinge containers that are most commonly used. Not only have we created new shapes and sizes, but most products can be equipped with clear recyclable PETE lids. The ability for Fineline to add innovation to this material is what separates us from the crowd. Fineline will continue to create new designs and shapes in the bagasse material that will help any operator create the perfect take-out vehicle for their business.
The Conserveware line if the perfect compliment to Fineline's product offering. With the addition of bagasse products, Fineline has created a full comprehensive catering product selection in the industry. Fineline now produces products in every available food service material to allow you to create the perfect packaging solution. We hope you will allow Fineline Settings to be your one stop packaging solution provider from your initial champagne toast to your take home family meal.
Download your copy of the Conserveware brochure to learn more about the full product line.