As always, it seems as though the holidays creep up on us ever more quickly each year! With Halloween out the door and in-laws practically ringing our doorbells for Thanksgiving, needless to say, this year's holidays are going to be a bit hectic! Hey, but that's okay, because just like last year, and the year before that, Fineline is here to help make this season sophisticated and effortless!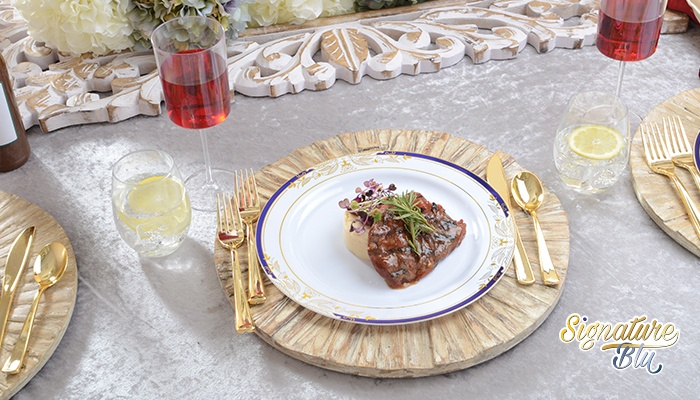 We've released quite a few new and intriguing products this 2016, all in preparation for now: for your biggest event season of the year, so that your holiday hosting is enjoyable and stress-free. Now, to help give your holiday table a stunning statement that will leave your guests breathless, we introduce…
An elegant and illustrious new addition to your holiday party that embodies old-world grandeur, stunning detail, and modern convenience for your busy life-style! Take a look at just some of the holly jolly highlights of this classically couture collection!
Three Perfectly Portioned Sizes for every Holiday Dish!
Cobalt and Gold trim heightens an intimate dinner with family; or a holiday bash of 100!
With its Unique Color scheme and design, this collection will match both modern and classic stemware and flatware!
Our crisp white base married with foil blue trim and gold stamping creates a signature style reminiscent of fine Victorian dining!
Polystyrene durability is disguised with delicate fine details that look prestigious enough for your china cabinet!
Fineline is here so that you never have to settle for less, and to assure that your signature standards are never compromised! We hope your holiday season is a spectacular one!
-Let The Most Wonderful Time Of The Year Begin!