JULY IS ICE CREAM MONTH - SUNDAE BAR 🍨
Summer is here and an outdoor sundae bar goes perfectly with hot weather! By being outside, family and friends can still have small gatherings and practice social distancing as we overcome this crazy time. There's so much life happening during the summer like graduations, engagement parties, birthday parties, and other important milestones that call for a sundae celebration. Half the décor is done when you use beautiful partyware from Fineline Settings to display the food. A sherbet sundae bar is not only tasty, but the delicious colors are perfect for a summer party!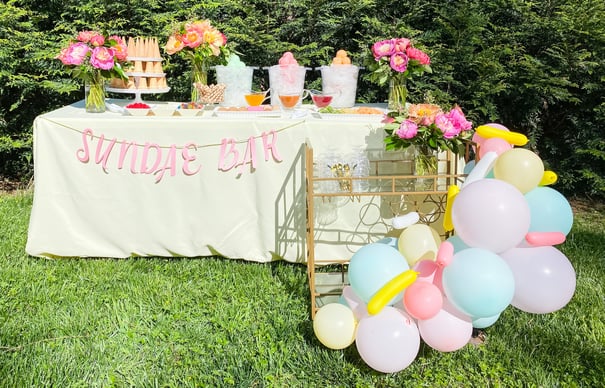 For the table, I used a light yellow tablecloth to compliment the sherbet colors. To make it more inviting and fun, I used a "sundae bar" garland across the front. I also was lucky to have a florist handpick fresh sherbet colored peonies to make the table extra special.
Then, I stacked three white cake stands in various sizes to create a beautiful tiered display. I like the versatility of using the cake stands alone or stacking them. It was the perfect way to serve the ice cream and sugar cones.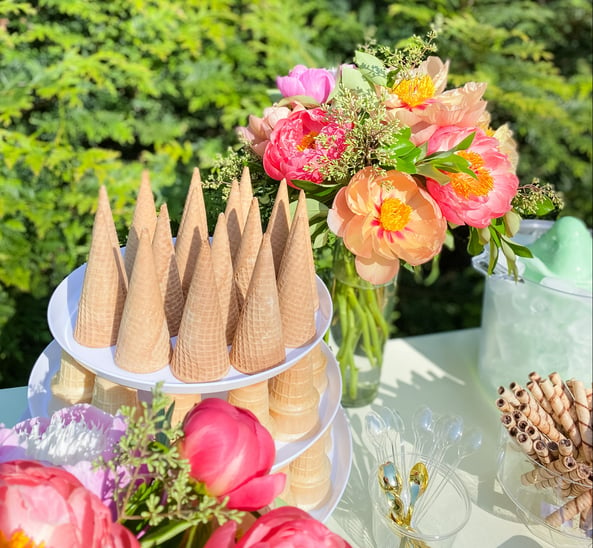 To keep the sherbet cold, I filled the bottom of three frosted buckets with ice and placed a sherbet container inside each one. Once they were inside, I filled up the sides with more ice to keep the sherbet from melting too fast in the hot sun.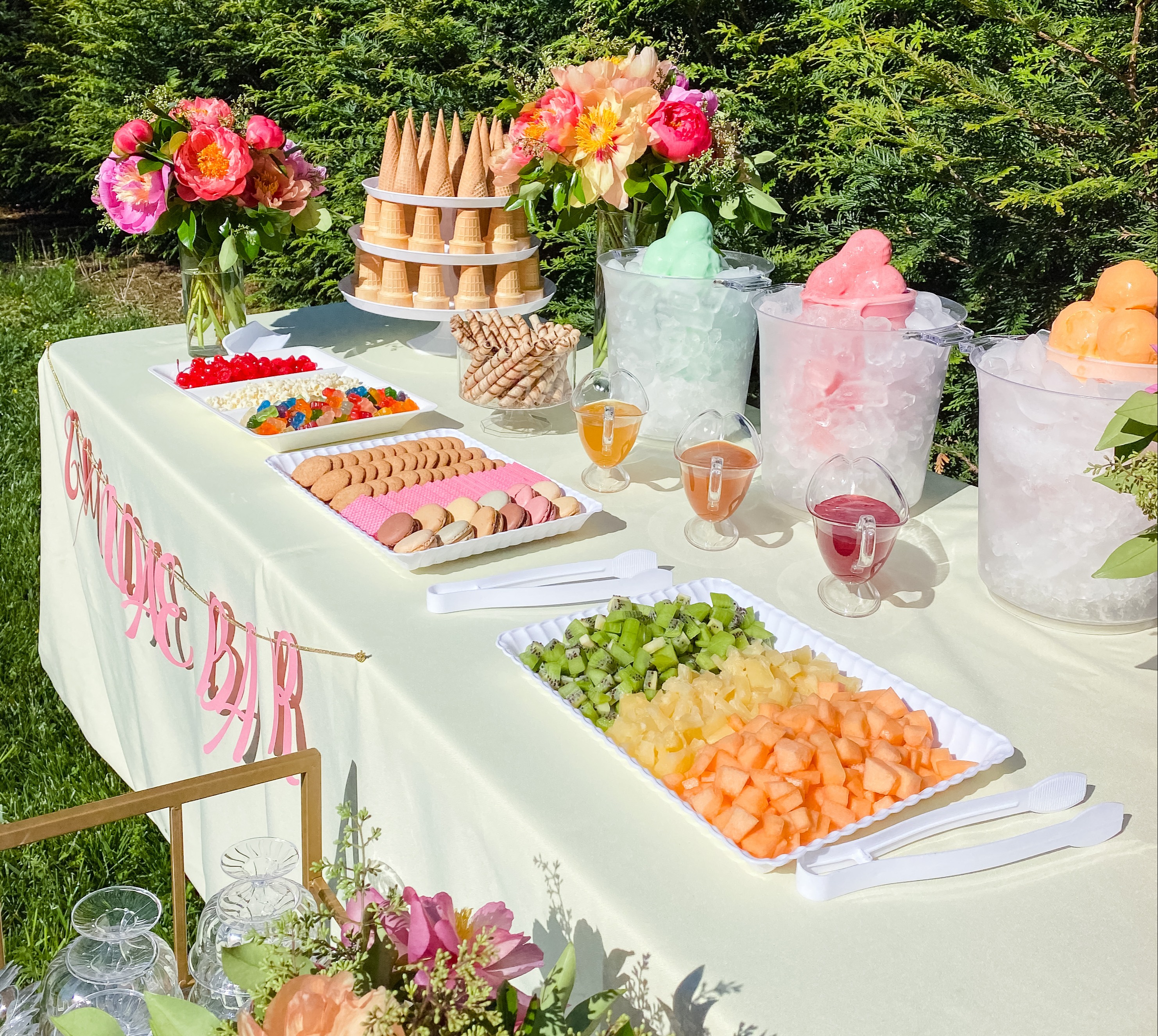 I used different containers to display the toppings based on their consistency and texture. The rolled cookies are great for dipping in the sherbet, so I spiraled them in a trifle bowl for anyone who wanted an edible spoon. I also used gravy boats to serve pineapple, caramel, and strawberry sauces for easy pouring.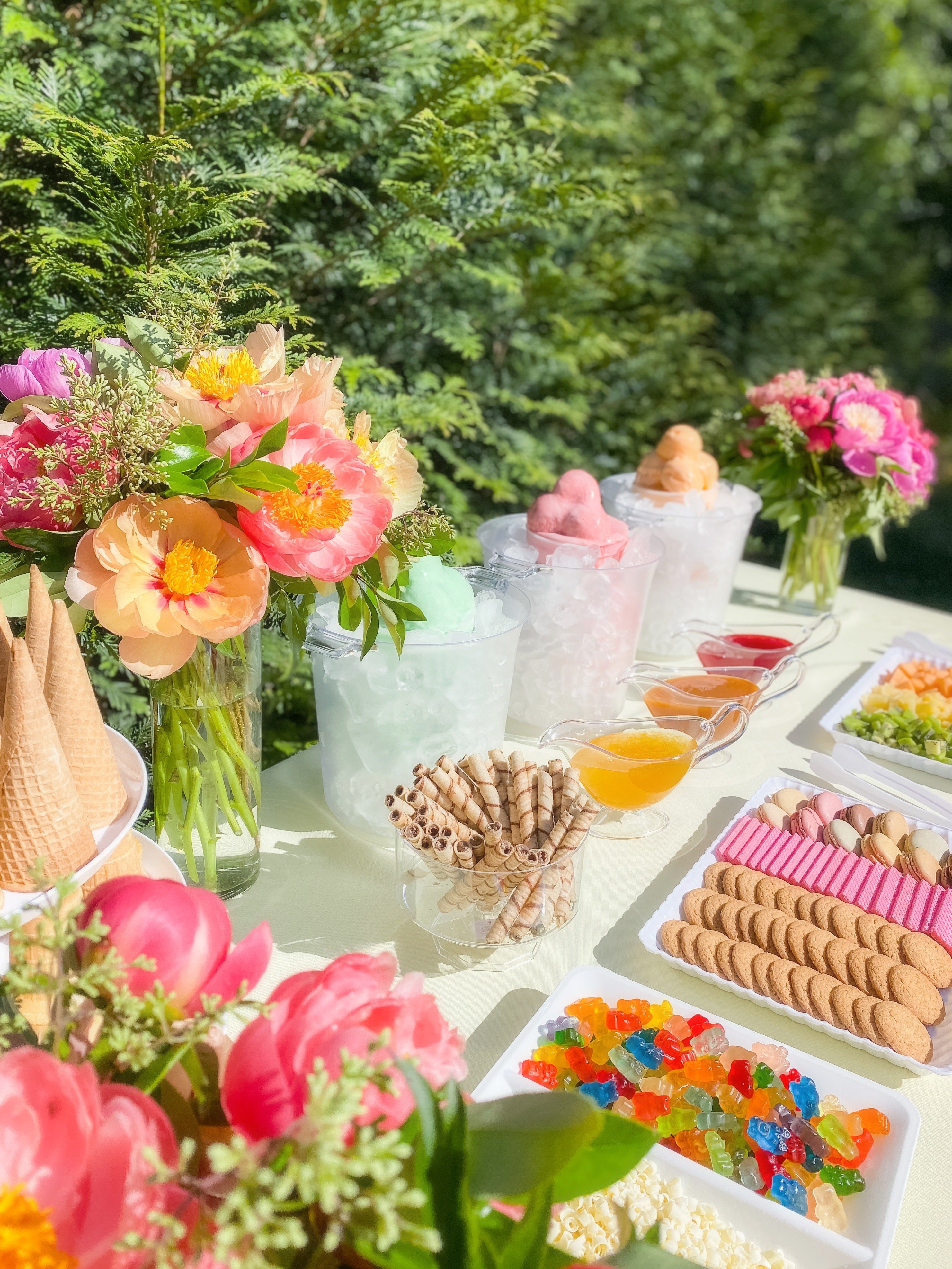 Below the ice cream cones, I used a sectioned white tray to add more toppings like cherries, white chocolate curls, and colorful gummy bears. In the center, I used a white tray to display a variety of cookies and on the left, I used another white tray to display fresh chopped fruit. To help with serving, I used a white scoop for the toppings in the sectioned tray and white tongs for the cookie and fruit trays.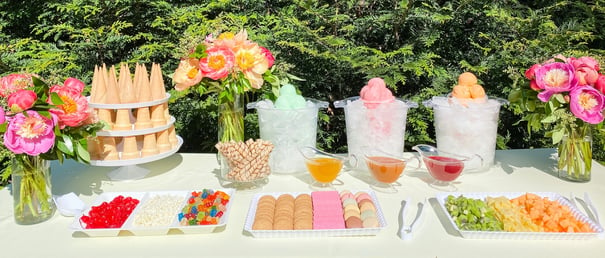 I also used a bar cart styled with a small sprinkle balloon garland to make the table more festive. It was a great place to add cute dessert cups and spoons for anyone who may not want a cone. The bar cart was also a great place to serve pre-made sundae cups. The end result is a vibrant and refreshing sundae bar, perfect for a outdoor celebration!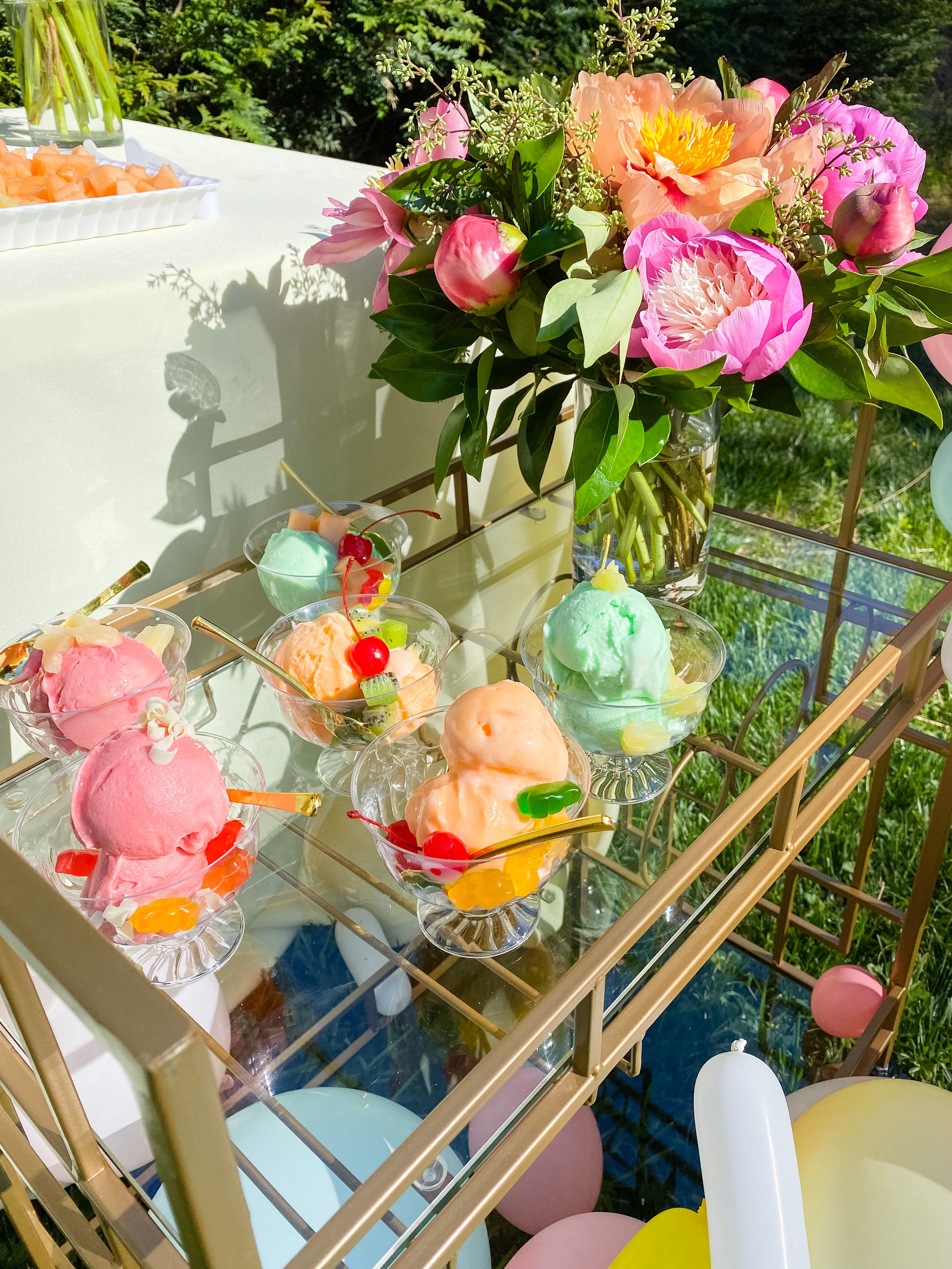 As life gradually returns to normal, I hope we can all find time to celebrate the important moments with a summery sundae bar! With quality party goods from Fineline Settings, entertaining is made easier. All there is to do is assemble the ingredients into the containers and enjoy. Have fun celebrating the graduations, birthday parties, or special milestones while you safely social distance outside!
Products Used:
9x13 Serving Tray
1 Gallon Frosted Ice Bucket
8 oz Dessert Cups
4" Tiny Gold Spoons
14x13 3 Section Tray
Ice/Candy Scoop
9" Tongs
9.75" Cake Stand
11.75" Cake Stand
13.75" Cake Stand
16.9 oz Gravy Boat
7.5" Trifle Bowl