It goes without saying that our company is in business due to our love of one very particular but obvious subject: FOOD Presentation! Needless to say, a plate can be beautiful, but without it serving its purpose then what is the point? Since we love celebrating all that is palate-pleasing, we are all very excited to bring to your attention that October is officially National Seafood Month!
To accompany this fabulous season of shell-fish and fresh salmon, it is also the most popular season for beer! Yes, dear friends; you can have your ale, and drink it, too! While we begin to reach the most hectic holiday season of the year, Fineline Settings is here to help you find the best ways to celebrate the onset of October!
We all can agree that a good brew and a plate of good chowder is a most welcome accoutrement to the arrival of chilly weather. Enjoy the change of the leaves while you and your friends take a stroll through your local brewery and top off a brisk day with a clam bake!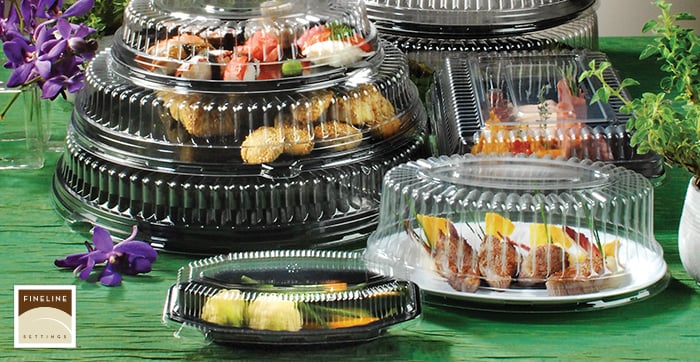 Our team has taken this opportunity to select a few special items from our product line to accompany your seafood and beer bonanza this year, so let's take a look!
We think it sort of goes without saying that the aptly named Wavetrends collection would be at the top of our list for your next crawfish congregation. We hope you'll take advantage of this unique motif by serving up the clam chowder in one of our 12 ounce Soup Bowls! Oh, and don't worry, we didn't forget about the brew; pour up a tall one in one of our Renaissance Crystal Tumblers to give your ale a touch of welcomed distinction and class!

If you're intending on entertaining your guests with snow crab legs or a lovely lobster, serve with grandeur on one of our Silver Splendor Dinner Plates. This collection will make even your most casual get together glow with an elegance that will not soon be forgotten!

Thinking of making your next event all about the mingling? Keep your celebration at a permanent cocktail hour by laying out the stuffed clams, shrimp cocktail, and crab cakes on one of our Platter Pleaser Classic Trays! Your guests will love the convenience of serving themselves on one of the Tiny Temptations Appetizer Trays or Bowls!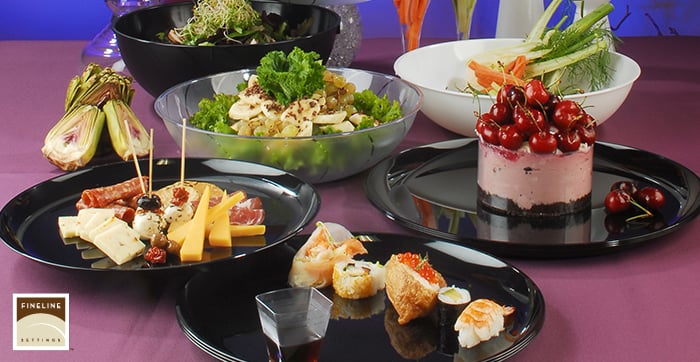 Fineline Settings knows that even the most elegant events should be simple, so take a look at these stress-free seafood recipe ideas we've found to help make your event coincide with the three E's: Exciting, Exceptional and Easy!
First up, we introduce you to the funky djfoodie, who spins out creative food concoctions over at his blog, djfoodie.com! We've taken a peak through his long list of seafood recipes, and not only is he an inspiring man who had the courage to change his life, but is also a fabulous chef who has shared dishes that will have you working with seafood like never before! I mean, just take a look at his Smoked Salmon Chowder if you need any more convincing… go ahead, we'll wait.

Our fellow siren of seafood is Elise, who runs her blog Simply Recipes. Check out her list of fantastic, hearty seafood ideas that will make even your pickiest of eaters dive in to dinner this year! Her Baked Cod with Ritz Cracker Topping is worthy of special mention, so be sure to give it a try!
We're glad to share these tasty recipes with you, but something we feel is as equally important as enjoying the taste of the sea; it is protecting our marine friends and their home. Every one of us is responsible for the security and sustainability of our oceans and the all-important life that inhabits them.
If we wish to continue enjoying the figurative fruits of the sea, then we need to ensure that they are protected so that our children and their children will also be able to appreciate the majesty and necessity of this unique ecosystem forever!
We look forward to enjoying all of what this season has to offer with you!