When you're hosting a party, a family event, or you're trying to make an impression in an intimate setting, every detail counts. You want people to be impressed with your presentations, but how do you keep your displays looking their best?

When you're talking about most social gatherings, the food is one of the first things which catch people's eye. You've spent a lot of time making this food look as nice as possible; where do you go from here? Why would you put your food out on a plate or platter; exposed to the elements when you could elevate your presentation and have your food front and center on serving trays with lids?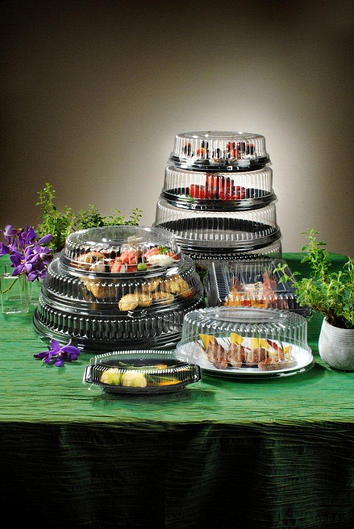 When you're talking about an event like a function for your job, you could be left waiting for things to happen for some time. You could bring the food in and set it up hours before the event. Imagine if you're celebrating a co-workers birthday or having a nice lunch event; you're not going to want to bring in food at 7 or 8 in the morning and let it sit out for four or five hours, right? When you bring this food in on serving trays with lids you are far more likely to preserve freshness and keep that winning presentation which you had when you first created it.
For party or event planners who do this by trade, the need for serving trays with lids is even greater. What is a client going to say in the dewy periods of spring when there are flies buzzing around their appetizers which have been set out for the filtering in of their guests? Of course you can't control mother nature but you can control the manner in which you introduce your items to the environment.
Serving trays with lids are a good thing to have around the house in general. Once mom makes some bread or a nice cake and it's cooled down you don't want to be exposing this food to the elements. You need it to remain as unperturbed as can be.
You want to ensure that the food you make for your family, for your co-workers, or for an event is going to retain freshness and integrity. For virtually any type of food and for every event there is the solution of serving trays with lids.