School is back, Summer has waved a fond farewell, and it is time we welcome autumn in all its brisk and colorful glory. While we may feel the pangs of loss as we start seeing Halloween decorations, begin planning our Black Friday routes, and fear the onslaught of retail Christmas carols… the Equinox has arrived and helped break things up a bit (quite literally).
As many of you may know, the Autumn Equinox is a time when the day and night are perfectly divided in half (a.k.a, we have the same amount of daylight as we do darkness). September, 23rd was the day when our beautiful sun crossed the celestial equator, and helped mark the changing of the season. Now that we have officially entered our season of change, let's take this time to relax and embrace the fall equinox in all its glory.
We've got a few FLS items in particular that we think would add just the right touch to include in your pre-winter celebrations!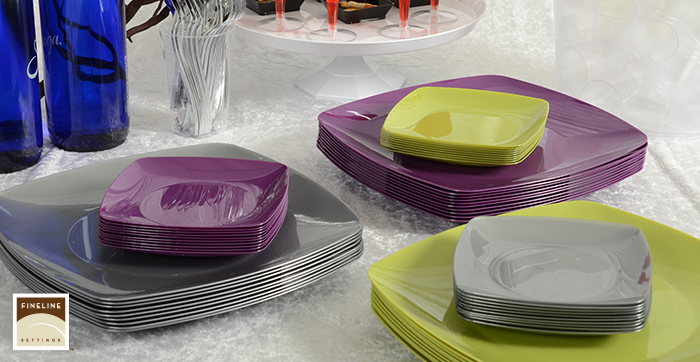 Pay homage to the full harvest moon with one of the Silver Renaissance Plates! Use the distinct elegance of this dinner plate to highlight the vibrance of your fall colors! We know your style will steal the show with the accoutrement of this plate's fabulously minimalistic style.

Celebrate in confidence! Twirl, dip and drink with the durability of premium polystyrene! It's time for you to host that 1920s Swing-Dance party you've always dreamed of now that you never have to worry about fine china shattering again! We like to think that there's no time like the present to make history!

Take every opportunity to show your true colors this year no matter the weather! As you're already savvy enough to know, all of our collections are fully recyclable! Even as the leaves change to red and gold, you'll stay green through the onset of the cold!
Fineline takes a ton of pride in the creativity and originality of our wonderful customers, and it is our honor to help keep your ideas big with little effort. Spend more time enjoying the little things, and take advantage of this array of colorful seasonal recipes that will help make all of your fall holidays a success!
We're happy to see that this season is turning out to be a very healthy one. Along with that pecan pie and sweet potato casserole, throw in a little fresh flavor with some inspiration from the blog In The Raw. Its founder, 'Earth Mother', has just the right touch to help introduce you to autumn in the raw!
Keeping in the theme of natural eating, we're happy to introduce you to Jenna! She created her blog: eat, live, run, five years ago; and has compiled a list of fantastic cool-weather recipes that will make it hard to believe it's healthy! The smell of her Baked Spice Doughnuts will make autumn your new favorite season!
What is fall without the pumpkin? Before you go carving him up and setting him out for the trick or treaters, take a moment with us to appreciate the wonderful flavors and dishes that this versatile vegetable has to offer your event! Maria and Josh are here to help you master the plump of the pumpkin on their blog, two peas & their pod. They've compiled 50 Pumpkin Recipes for Fall, and soon the king of the piumpkin patch will have a permanent place in your pantry- and not just on the porch!
As our biggest holidays of the year are approaching; we promise to deliver you posts that will cover all of your celebration bases! Share your Equinox stories and inspirations with us so we can stay up-to-date on what it is that you're looking for in us!
Have a happy Autumn Equinox, everybody!