Holiday Party Catering Ideas:
Holiday season is here and whether you have a large budget or small budget there are plenty of places to find great ideas. Here's one that is sure to make the party that much more memorable, stretch your budget that much farther, and make planning your party that much more convenient – Use Fine Disposables.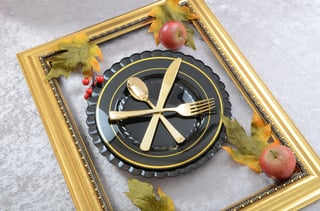 Disposables Save Time, Money and Labor.
Rental costs for serve ware range from about $4 per person to upwards of $7.50 per person. That's just to rent the stuff. Additional costs may include fuel surcharge, price per mile delivery and additional labor to deal with it during the event. Now you can get all the aesthetical appeal of fine china with disposables that look like fine china for about ½ the price of what it costs to rent. No fuel charge, no delivery charge, no broken backs or broken dishes to disrupt the event either. If your per person budget for your party is small you can instantly improve the perception of it with high end disposables and redirect the savings toward a better menu. People eat with their eyes before their stomach and the better looking the food is the better it will taste and the more memorable it will be. High end disposables are not expensive when you compare the cost to renting plates, flatware, and glasses.
Convenient Anywhere.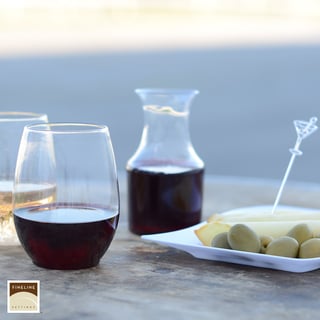 The greatest benefit to using disposables is to the event planner. There are many venues that do not allow glass so you have no choice but to use disposables. Using disposables opens your venue options wide open and there are many outdoor venues that are less expensive than indoor venues helping to save even more money without having to sacrifice elegance and sophistication. Plus one less company and rental contract to deal with can be a blessing especially when you're one of the party planners scrambling to put together a corporate event where the stakes to impress are high. Simply using disposable items like stemless wine glasses will create ambiance for your event that is over and above using a random plastic cup for beverages like fine wine.
Disposables Are More Sanitary.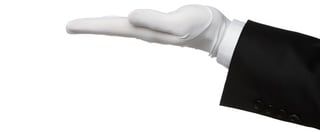 Sanitation is important at parties with a lot of guests. Unfortunately, holiday party season coincides with flu season. Studies show that single-use food service items are more sanitary than reusable dishes. If you're renting dishes you have no idea where they've been stored, the equipment and chemicals that were used to try and get them clean or who's been handling them. Sometimes chips on the edges of plates and glasses that seam harmless can be a breeding ground for bacteria that will give your guests the wrong memories of your event. Disposables have evolved so much in the last decade that they realistically could be used at a white glove service event.
Take Away.
It's time to rethink disposables. Make any event spectacular regardless of what it's for or where it is all while saving time and money without sacrificing elegance, sophistication, health and safety. Check out a full line of options for any event at and request a catalog at our website.