Hi everyone,
It's that time again when we introduce you to a new item in our family, as you already know, we always seek to improve and add products to our premium line in order to help and satisfy the needs of the consumers, chefs, party planners, foodservice owners and others and we're proud to say that we are getting satisfactory reports thanks to you all!
Today we bring you our NEW Premium and beautifully well structured Plastic Cake Stands, they are available to ship from our Middletown NY warehouse today!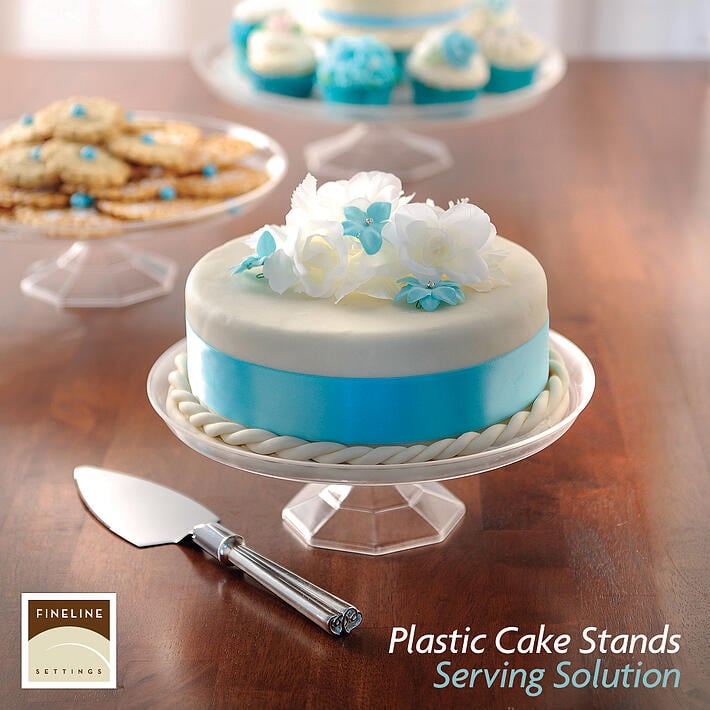 With a selection of 3 sizes to choose from, we have a 9.75" tray and stand, 11.75" Tray and stand and a 13.75" Tray and stand, they also are available in color clear and white.
Use these new plastic cake stands at parties where you want to build a display of 3 tiers, great for use individually as well, place mini desserts on them, cupcakes, full round designer and delicious cakes will look great on them, also can be used for parfaits, mini cocktail tasting dishes.
You can mix and match with our Tiny Temptation dessert and mini dishes, and with all these being premium plastic and disposable you have the luxury of just throwing them away or reusing them by hand washing them (I would throw away the mini plastic dishes and wash the trays) or just disposing them in the recycling bin.
How would you use these new Premium Plastic Cake Stands at your party or event? We want to hear your comments below.
Happy Partying!