IT'S ONE OF OUR FAVORITE AND REVERED NATIONAL HOLIDAY WEEKENDS. A time when we honor those who are, and have, served in defending our freedom and liberty. It is a time when we remember and say THANK YOU to those who have protected our country and the those who live within it. A time to celebrate their triumphs and honor the sacrifices that they and their families have made.
Memorial Day is the perfect way to start off an already promising summer, and FINELINE SETTINGS is here to help make your outdoor or indoor festivities fun, fashionable, and easy! That way, you can spend your precious moments with those you love most, and not washing dishes!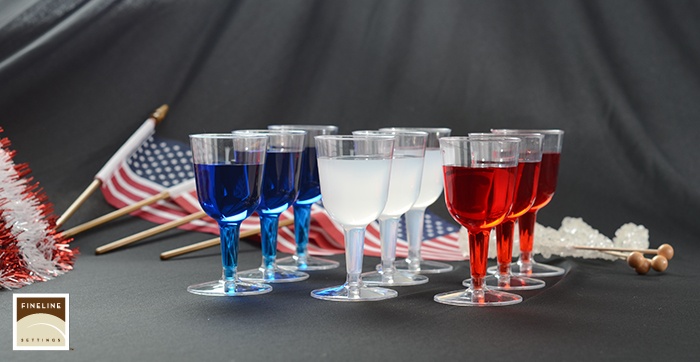 Share a nice cold beer with your special veteran, and now with our SUPER SIPS PET CUPS, you'll never have to worry about the fragility of glass for your outdoor event again!
Whether it be beers, sodas, smoothies, and even desserts, Super Sips has the perfect cup and matching lid to help keep you cool and casual! No matter what Fineline collection you enlist for your dinner service, our products will stand up to whatever you can dish out.
If lunchtime compliments are what you desire, then fill one of our SUPER BOWLS with your salad, chips, pretzels, fruits and anything else you can think of! With SEVEN sizes to choose from, and both a flat and dome PET lid to match, you'll never be short-served!
Most excited, perhaps, in this line up of legendary dinnerware, add a splash of patriotic color with our new COBALT SQUARE SPLENDOR PLATES! That's right, now your favorite line of appetizer, dessert, and dinner plates are in a fashionable, reflective blue!
With the table setting in your back pocket, and so that you can focus on your favorite veteran(s), we've comprised a list of some excellent and easy recipes for your summer bash!We're talking, ofcourse, about this week's...
FLS Top Memorial Day 2016 "Pin-It" List!
All of us here at Fineline wish to show our deepest appreciation and respect for our Armed Forces. You are all heroes, and we celebrate all that you and your families have accomplished.
With the upmost respect, we wish everyone…
HAPPY MEMORIAL DAY!