WOW! WHAT A HOLIDAY SEASON THIS HAS BEEN SO FAR, RIGHT?
With hectic shopping and schedule conflictions abound, wouldn't it be nice if at least one thing could be easy and stress free? Well, as always, our Fineline Family is here to share a few last minute holiday life savers to help you stay calm and classy throughout your Holiday 5K!
Imagine this: your beautiful holiday dinner table, full of your loved ones laughing merrily, and complimenting your amazing meal and your fabulous tableware...
Now imagine that after the meal is done, and your guests are snoozing on the couch... YOU are right there with them! And all because those beautiful dinner dishes, cutlery, and drinkware require no more after dinner clean-up than tossing them in that giant blag garbage bag (we all have) that is already full of wrapping paper! That's right, now you can have a beautiful tablescape fit for any festivity, and its all completely disposable!
Our recently introduced Heritage and Signature Blu collections are elegant and durable options to wow your crowd; and they go beautifully with our new Renaissance Crisp Stemware and Stemless Goblets!
If you're hosting a bigger event or even a holiday office party, then our new Crystal and Holiday Themed Trays are the perfect options for serving up your appetizers, fruit and veggie platters, and yummy holiday cookies!
Alright, now that your dinnerware situation is set, it's about time we find something delicious to put on top of them! We have a few fun things for you to check out this week. Firstly, of course, we have comprised a mouth-watering list of both tasty and beautiful holiday treats we thought would look great on our serving trays and platters; so check out our...
FLS 2017 Holiday "Pin-It" List!
And because you have been so good this year, we have a special treat from one of our very own team members! If you follow the link back to our Facebook Page, you will be greeted with a warm drink recipe inspired by one of the pins on the Holiday board!
Tested and approved, this Hot Cocao is elevated with delicious treats, a rich flavor, and will look beautiful in our Flairware, Silver Splendor and Tiny Temptations Coffee Mugs! Click on the pic below to check it out!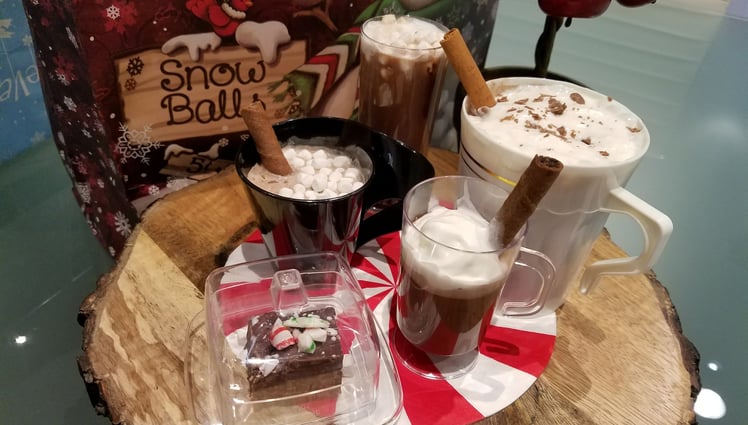 As always, it is a pleasure to have shared this 2017 with you. It's been a year of change, growth and progress. Together we are stronger, and love is the most important aspect of every holiday celebration. May the holidays of you, and those you love, be full of health and happiness.
From Our Families to Yours,
HAPPIEST HOLIDAYS!