Beauty is in the eye of the beholder; distinction in the view of the discerning; excellence in the hands of the experts. Behold the distinction of the experts: Fineline Settings - Renaissance collection.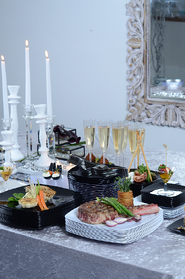 Always the innovator in the plastic tableware industry, Fineline Settings once again reshapes the face of plastic tableware with the Renaissance, the collection that will revolutionize all preconceived notions about disposables. Prepare to be impressed. Prepare to impress others with this Fineline Settings testament to good taste.
Nationally acclaimed for the impeccable quality and ingenuity of all its products, Fineline Settings has achieved in a few years what the rest of the industry has worked on for decades. As predicated by their name, Fineline Settings has redefined the concept of fine dining by designing the finest lines of settings that are indistinguishable from real china. Fineline Settings ensures dreams are made real with dishes that are disposable.
Entering the realm of Fineline Settings transports you to a world wherein old concepts of commercialism are elevated to new standards of professionalism. With representatives in all fifty states and exhibits at industry trade shows, Fineline Settings is positioned to fill every niche in the plastic tableware industry and poised to fulfill every expectation for every occasion and celebration.
Avail yourself of the opportunity to claim the Fineline Settings success story as your own. Behold the beauty. Discern the distinction. Experience the excellence of the experts: Fineline Settings.
Learn more and contact a rep in your area today. Go to http://www.finelinesettings.com/salesrep.asp