Setting Up For Thanksgiving.
With Thanksgiving right around the corner there's a lot to do. Some people spend days in the kitchen prepping food and scouring the internet for things like the perfect gravy recipe. Having friends and family over to be Thankful for all that is can sometimes be a stress especially when you find you might not have enough place settings for the amount of people coming over. Rather than turn to any old plastic cups and paper plates for the kids and the random mismatched place setting for cousin Eddie rely on Fineline Settings to set the table for you. Fineline settings premium disposable place settings are constructed with rigid cut proof plastic that will hold up to the toughest meal scenarios. The look and feel of a Fineline Place setting is unbelievably real. Your guests won't believe they are disposable upon first glance.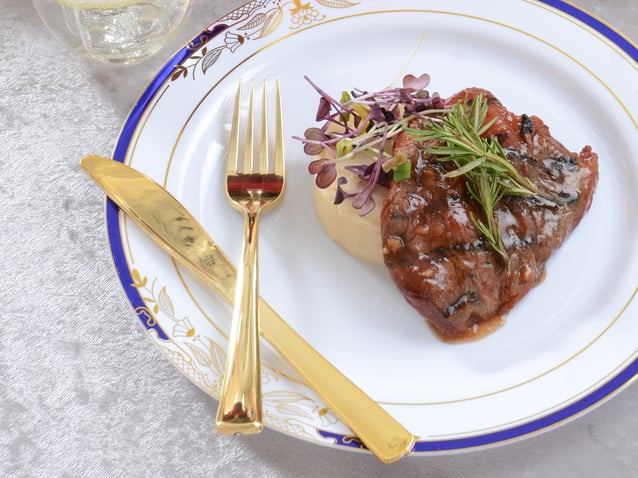 We take it all the way.
Fineline Settings has more than just place settings to make your event spectacular. Pour on the elegance with our ultra-clear gravy boats. A few of these peppered around the table will make it easy to serve that perfect gravy recipe you worked so hard on.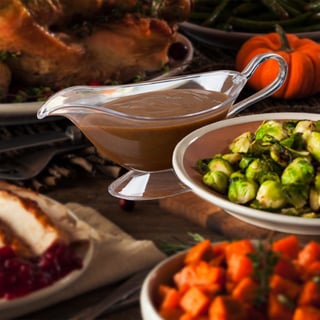 Not enough Silverware?
No problem – there are many options to choose from. Check out this new pocket napkin set. Setting the flatware is now as easy as dealing out cards. The full-size linen like napkin will help keep the kids from wiping their cranberry sauce hands on their grandmothers table cloth.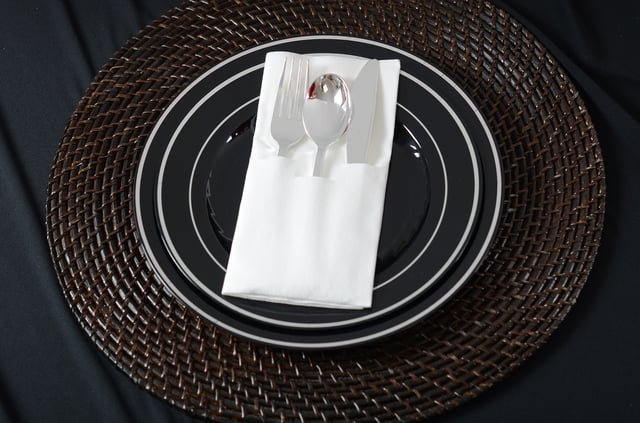 Need a platter for the Turkey?
No problem . There are plenty of medium, large and extra-large serving platter options from Fineline. Item # 485 is a 25x14" oval tray– available in white, black or clear. It's' large enough for the entire bird to be carved at the main event. Here is a tip on how to carve a turkey. The high rim designs of all of our serving platters will keep the juices where they belong – savoring in the meat.
Responsible for bringing desert?
Wow them with a bunch of Tiny Desserts - Tinys are tempting and with many tiny tray and tumbler items from Fineline Settings you can show up looking like a pro-caterer.