Champagne Cocktails – Step up your holiday drink recipes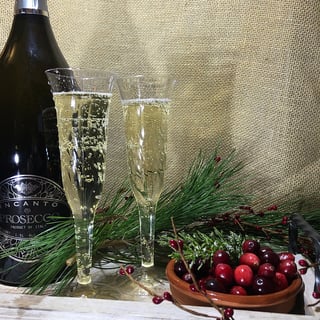 Another holiday year is upon us and as you scour the internet for Martha Stewart Champagne Cocktail recipes be sure to pay extra close attention to how you present your drink as well as the ingredients that make it up. It's proven - food and beverages that look better TASTE better. Yes, we are here to show you some of the best disposable champagne flutes on the market but we are also going to tantalize your taste buds with some fancy fun champagne cocktail recipes as well. Fineline Settings wide selection of Champagne Flutes allow anyone with a spark of creativity bring the bar to the party! It's always nice to bring a bottle but it's even better and easier on the host when you can bring the whole set up.
Blackberry Ombre Renaissance: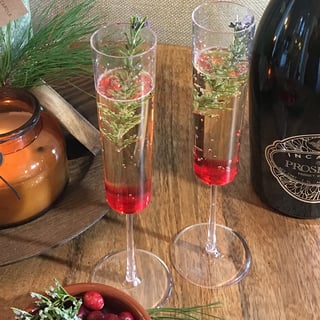 INGREDIENTS
Fineline Settings Renaissance Stemmed Champagne – Yes it's disposable but will also make it through the dishwasher.

1 cup fresh blackberries

1 cup sugar

1 cup water

4 sprigs fresh rosemary

1 bottle champagne
INSTRUCTIONS
In a small saucepan, combine blackberries, sugar, and water. Bring to a boil on high heat, and then reduce to a simmer and let cook for approximately 15-17 minutes. The blackberries will become soft and bright in color and a pinkish purple syrup will form. Making sure it cooks down enough is essential to keeping the ombre effect. Take off of the heat and drain the blackberries, keeping the syrup in a separate bowl. Set both aside and allow to cool.
Once blackberries and simple syrup are cooled, spoon about 4 tablespoons of syrup into the bottom of each champagne flute (this recipe makes 4 drinks)
Top with champagne.
Garnish with fresh blackberries or the cooked blackberries, and a sprig of rosemary.
Cheers!
Renaissance Raspberry Mint Champagne Cocktails: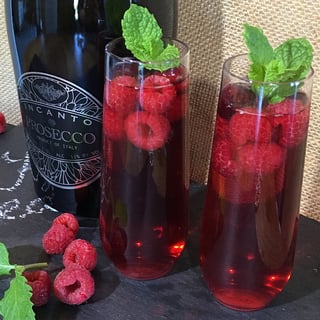 Ingredients:
Fineline Settings Shatterproof 10oz Stemless Champagne Flutes
1/4 cup granulated sugar (if you prefer your cocktails to be extra sweet, then kick it up to 1/2 cup)
1/4 cup water
3-4 sprays of fresh mint leaves
3 pints raspberries
1/4 cups fresh lime juice (1-2 limes)
chilled champagne, prosecco or cava
Instructions:
Make a Simple Syrup by combining the sugar and water in a saucepan and stirring over medium heat until the sugar has dissolved
Add 2 sprigs of mint leaves and let them sit until the syrup cools
Rinse the raspberries and then toss them into a large pitcher
Pour in the lime juice & mix
Once the syrup has cooled, strain and pour it into the pitcher
Pour in the chilled champagne on top
Use the remaining mint leaves & raspberries for garnish
Blackberry Lavender Champagne Cocktail: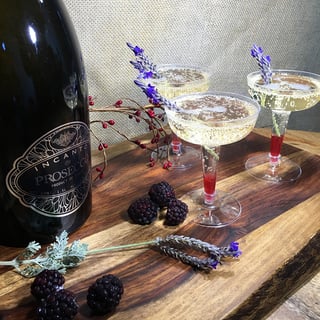 INGREDIENTS
Flairware 4oz old fashioned champagne glasses
FOR THE BLACKBERRY SYRUP 1/3 cup blackberries, plus 8 more for garnish
1/3 cup water
1/3 cup sugar
1 bottle of Prosecco or champagne
INSTRUCTIONS
In a small saucepan, bring the blackberried, water and sugar to a boil. Turn to low and let simmer for 10 minutes. Strain blackberries and let syrup cool.
Add 2 tbsp. of syrup to the bottom of each glass. Top with champagne and add in a sprig of thyme and 2 blackberries!
A HOST OF OPTIONS AWAIT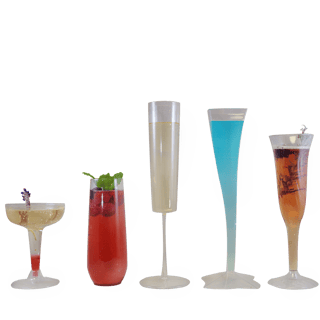 Disposable champagne flutes from Fineline Settings are elegant and fun. Their sleek design and aesthetic will complement even the most elegant cristal champagne. There are also a number of 2oz Tiny Champagne options available that you can creatively use for appetizers and desserts and really up your food presentation game. If you would like to know where to buy elegant and sophistcated disposables for any event you can easily request a call from customer service or a local rep.