Thanksgiving is the biggest dinner-party in the United States; and with millions of families collecting together from one end of the country to the other, let Fineline Settings help you make it just a bit easier- and astounding!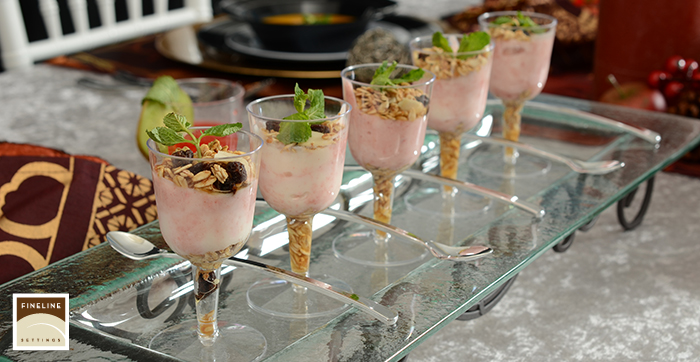 There are very few tablescape settings we decorate during the year that have quite as much impact and importance to us as our Thanksgiving table.
We painstakingly polish, shine and fold: silver, china and napkins that otherwise spend their remaining 364 days in grandma's china cabinet, all just to wash them barely a few hours later. Not to mention, the almost unavoidable risk of breakage that only adds to the stress that every host endures in preparing the perfect family event at any scale!
What if you could have all of the glamour and beauty of traditional china, without the hassle of an exhausting pile of dishes, or the unpleasant possibility of damage or injury? What if you could spend every moment of your holiday with the people you love most, and virtually no time polishing silver or cleaning up after the meal is complete?
Well, Fineline Settings is here to tell you that your Thanksgiving can be all of these wonderful things and more! With affordable, durable, exceptionally beautiful collection lines created to serve every entertaining and catering need, your holiday will be a resounding success!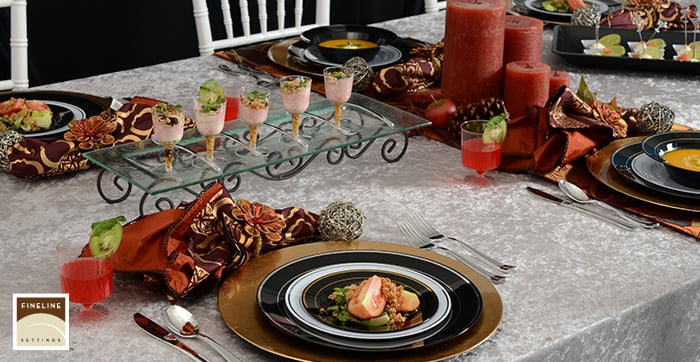 Whether you want a classic table doting the elegance of our Flairware or Silver Splendor collections; or your family appreciates the modern, minimalistic style of our new Solid Squares or Wavetrends collections; we have styles and colors to match your holiday tastes!
No matter your plates and bowls, our beautiful cutlery will compliment every setting. From the classic sheen of our silver-finished Silver Secrets cutlery, to our new and exclusive line of Gold Cutlery, every place setting will glint with elegance and ease!
When it comes to serving up your bird and the accouterments, our Platter Pleasers collection has every course covered from Bowls, Platters, Gravy Boats, Pitchers and Buckets- even Lids to help preserve the perfect holiday leftover!
As we said earlier, this day of thanks is just one day out of the year that our Fineline family cannot pass up in letting you know just how much you mean to us! We're so thrilled to spend another Thanksgiving at your holiday table, and we look forward to many more!
Take these next holiday months to show those that mean most to you just how special they are. Slow down from the chaos of day to day stresses so that you never pass up a hug, a laugh or a toast with those people who make your life so fulfilling!
We hope that you and yours have a fantastic, safe holiday season!
Happy Thanksgiving, Friends!