Spring is in full swing and it is the perfect weather to host your celebrations in the fresh air. Fineline Settings is here to give your balmy soiree that special touch of elegance and distinction that you have been looking for, with the ease of disposable!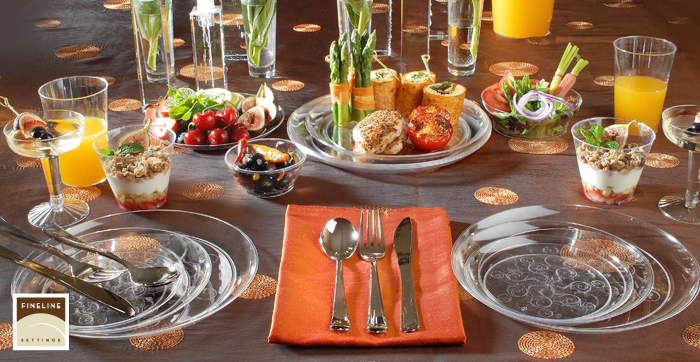 Spring Break is here and your little ones wish nothing more than to stuff as much fun and celebration into these precious days of freedom as they can, and we know that you're the one they will entrust to make their vacation something special.
Have you been planning that day of fun for your family and friends and you need a chic and yet durable canvas on which to express your culinary creativity? Our products are here to help!
Keep it simple but elegant with our Savvi Serve collection, or take it up a notch with our premium dinnerware, Flairware!
No matter the style of your event, we are here to compliment your affair; whether you're hosting a black-tie wedding reception for 300 people, or that annual barbeque with 10 or 12 of your closest friends, there is a collection to match your tastes!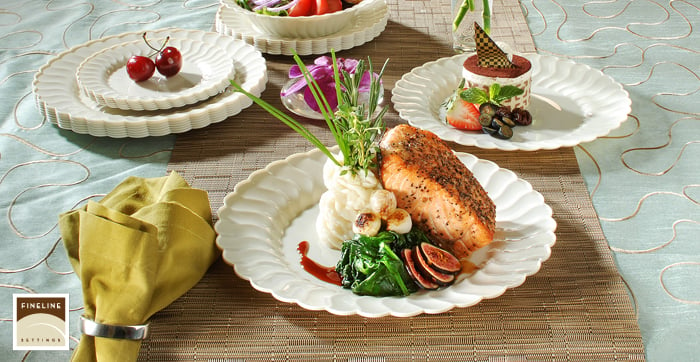 It goes without saying that there is no beauty like that of nature, and what better way to get in touch with nature than to serve your guests in the great outdoors? With one of our premium collections, you can host with confidence that your plastic dinnerware will not only survive the elements with its durability, but impress your guests with its striking elegance. It does not matter what the celebration is, we know you'll find the collection that will help accent your beautiful event and make your celebration a sensation!
Now, we here at Fineline Settings know that green is quickly becoming a very trendy color, and the environment should be on everyone's short list of responsibilities. Because of this, our company is happy that we can assure our customers that you can comfortably serve your guests with the clear concience that all of our products are 100% recyclable where facilities are available!
We know, we know- it seems too good to be true that the qualities of: style, durability, affordability, and environmental-consciousness could ever be combined so melodiously; but Fineline Settings is here to assure you that you can, indeed, have all that and more!
So, now that you know you have a beautiful canvas with which to display your appetizers and entrees upon; we know that one of the biggest and most overwhelming decisions left for your season inspired event is what to serve on your stylish dinnerware selection? Are you looking for something unique and yet easy, do you want something different and fresh that will really help you feel the new season inside and out?
Don't worry, your friends here at Fineline Settings have got you covered. We've found some fantastically quick, easy and elegant recipes that will leave an indelible mark on your guests that they will never forget!
---
The savvy Phoebe Lapine's post entitled "7 Spring Break Recipes To Bring The Party To You" on the HuffPost Taste has provided a list of fantastic and unique recipes ranging from: Chipotle Mango Salsa to Edamame Succotash Quesadillas. We know, our mouths are watering, too!
---
Do any of you party planners have a recipe for spring that you would like to share with us? Do you have a beautiful and interesting tablescape you've created with one or more of our collections? Let us know by posting it in a comment below!
No matter what, we here at Fineline Settings know that whatever you choose to serve or where you serve it, our collections are there to accent your individual style and elegance; helping you to set yourself apart and leave your guests talking for years to come… after their speechlessness wears off, that is!