---
It's the most exciting part of the year, for some at least. It's the time when you're either shopping or eating. The weather is cold outside and it's cozy and warm inside every home. You're prepping your to-do lists, the parties, meals, shopping, gifts, sock stuffing and much more than that, you're constantly thinking of others and everyone but yourself... Let us help a bit!
Don't let this season's holiday bustle weigh you down! You do a great job cooking all the food that everyone loves and looks forward to, why the cleanup is what we ask? If you're looking for a convenient, stylish, and high-quality serving set to help make your holiday parties fabulous and easy, then our Costco Holiday Pack is waiting for you on your local Costco shelves!
Fineline Settings has partnered up with Costco to bring you the best in disposable serving products.With the quality you have come to expect from Fineline Settings, this full-course serving set will make sure your holiday celebrations are a ringing success!
This Holiday season, serve with confidence as you lay out your menu on our classic premium heavyweight white serving trays that'll handle each course with style. Ring in the New Year while dishing out or in with our Silver Utensils designed with beauty rivalling fine silverware and durability of Heavy-Duty Polystyrene.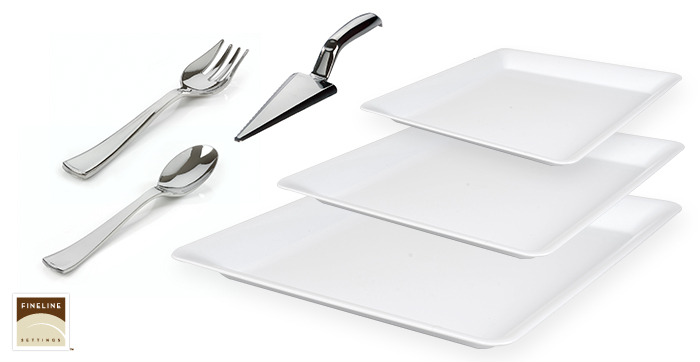 3 Beautiful White Serving Trays

Elegant Square Design

3 Size Trays: 10", 12", 14"

3 Piece Silver Serving Utensils: Serving Spoon, Serving Fork, and Cake Cutter/Lifter

Heavy-Weight Polystyrene Plastic

Fully Recyclable

Conveniently sold at your local Costco

Ideal for all of you up-coming holiday events

Design that compliments all holiday décor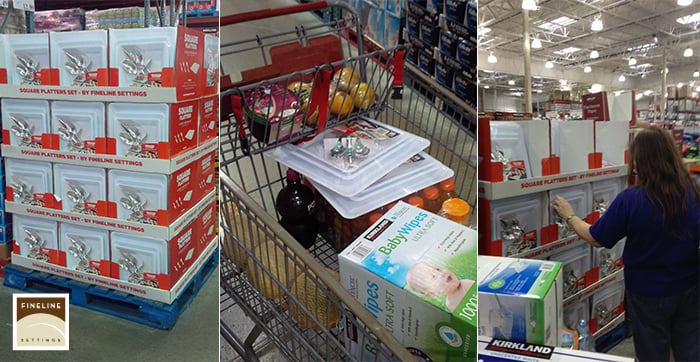 Wheather you're serving a Thanksgiving dinner, or New Year's Eve dinner, make sure you enjoy your holiday events without sparing a second thought to after dinner clean-up! Don't settle for less this year; make this chilly holiday season the most exciting one yet by stopping by your local Costco to pick up your Costco Holiday Pack today!
From all of us here at Fineline Settings, we wish you a very happy holiday season!