THE HOLIDAY SEASON IS NEARLY AT ITS EXCITING CLIMAX! Bells are still ringing and choirs are still singing as we ready for the nation's favorite ball to drop! With trees still lit, and the presents all unwrapped, the family is together and the night which welcomes the New Year has arrived! That means it's time to celebrate!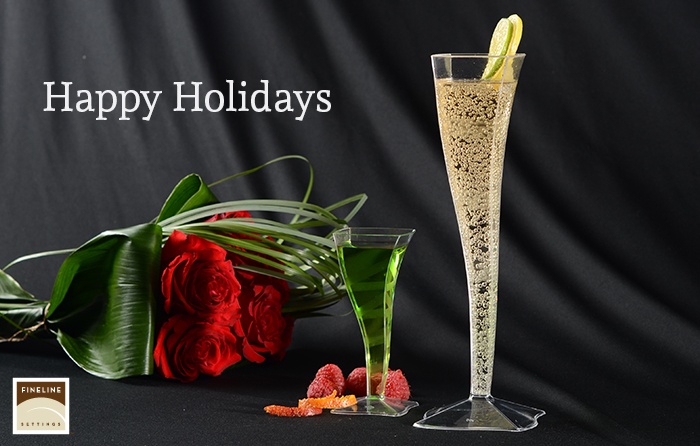 The biggest bash of the year has arrived, and with noise makers, party hats and champagne at the ready, 2016 is promising to be the best year yet! Knowing that your favorite festive convives will be ready for a celebration to shake the nation, let Fineline Settings give you a helping hand in your event preperations!
Cozy up with family and friends for feasts and follies that will forever play in your memories for years to come! Spend your special time out of the cold kitchen and dirty dishwashing gloves, and spend it with the people that make your holidays happy- a glass of champagne doesn't hurt, either. Or two... or three.
Any of our Fineline Dinner Disposable are the perfect complement to any seasonal setting that a haute hostess could imagine! No matter your menu and regardless of scale, you'll know that you can serve your family and friends without having to start your 2016 off elbow-deep in the kitchen sink.
Fineline has always made it our unyielding goal, year after year, to ensure that you never miss a special moment with your very special people. We've prided ourselves, through every New Year, in our unyeilding guarantee that when you entertain with our product line, your event will be elegant and effortless!
Cuddle up with the ones you love and start putting together your last minute festivity plans, take a look at the New Year's 2016 pins we've comprised, and maybe you'll find a new tradition that you don't know how you've lived without!
Get festive with our…
FLS New Year 2016 Top "Pin-It" List!
It's our last post of the year, and it has been 365 days of amazing and exciting things that we've been so happy to share with all of you! 2015 has been chock-full of fabulous innovations!
With the release of Solid Squares, Super Sips, Gold Cutlery, and our Stemless- just to name a few, we've loved seeing the amazing events you've arranged with our product lines!
We've had the chance to share and grow with you, through the awesome tradeshows we've attended together, and our All-Star Sales and Customer Service team have loved every minute that we had to demonstrate and describe the countless ways that our collections can complement your unique hosting style!
As always, we want to have all of your bases covered to help make your celebration as easy as it will be stylish! Since we're always here as your number one assistant, we've created our very own guide to help you pick the tablescape style that best suits you!
Feel free to keep this little reference in your back pocket for every event, because no matter what style fits your tastes best, Fineline has a collection line to fit you!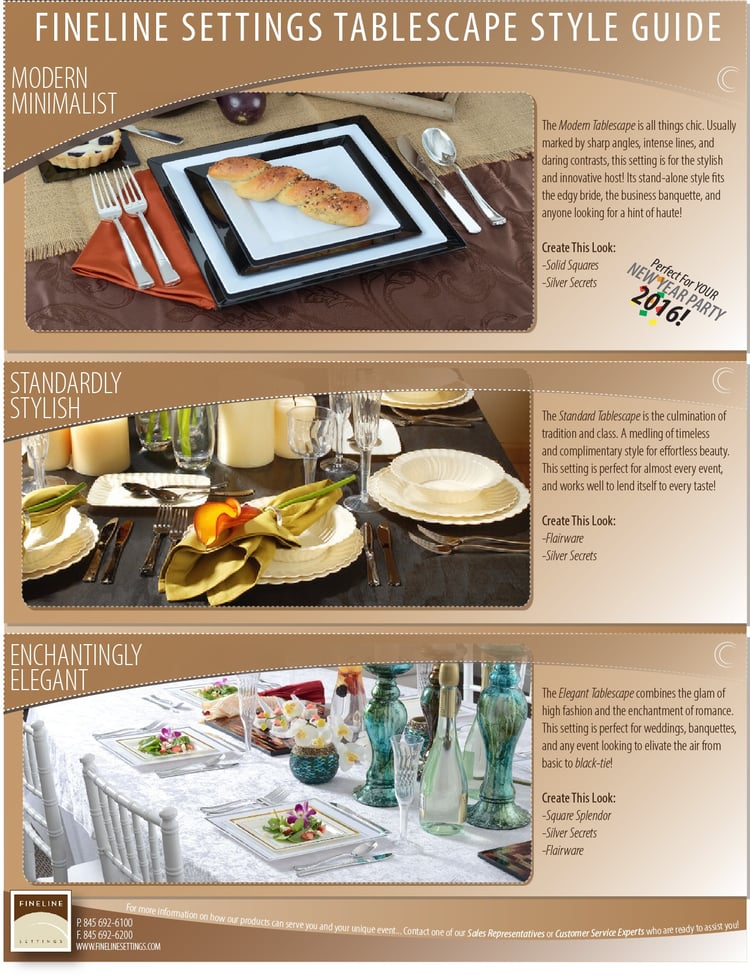 Now that we have a fresh New Year to celebrate every day with you, we can't even being to articulate the excitement we feel for all of the new treasures we have in store! We wish you the happiest of New Years, and may your 2016 be full of health, love, excitement and joy!
We can't wait to celebrate every special moment with you at your table, and we look forward to many more New Year'sto come!
Have a Happy & Safe New Year's 2016!