With a long and tumultuous winter finally drawing to a close, we are all undoubtedly happy to bid a fond farewell as the heavy blankets of snow are pulled back to unveil the warm colors of spring blooming gloriously all around us; revitalizing us in a way that only the beauty of the budding flowers and soft call of cooing birds can!
Fineline Settings knows that any season is worth celebrating, but there is something especially special for all of us when the winter fades and spring covers us with bright blue skies and colorful flora.
Whether it be the soft spring rain or the sweet fragrance of blooming flowers, there is something about this rejuvenating season that makes it one of the most popular times of year for your events and celebrations.
With the sunny sky and the vibrant colors,or the sound of birds singing to another outside our windows, it is no surprise that spring is infamous for being one of the most romantic seasons of the year; and what better celebration of love than your wedding?
We know that this is one of the most important celebration in a persons life, and we are here to help make your spring reception memorable, sophisticated, and easy!
With durable, beautiful and fully disposable dishware, allow one of our premium collections to compliment your celebration with a magnificent touch of elegance unlike any other.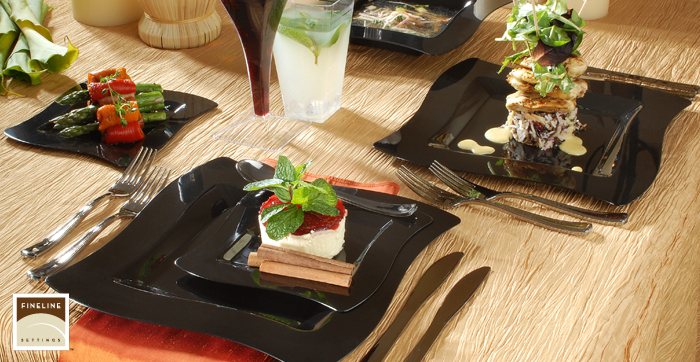 Put your celebration leagues above the rest with our Silver Splendor products; demonstrate your stylishly modern, but always elegant sense of taste with the Renaissance or Wavetrends Premium Disposable Dinnerware collections; and take finger-food to the next level with our Tiny Tempts selection of plates, utensils, barware and more!
Whether it be your wedding, a sweet sixteen party for that special youth in your life, that 50th wedding anniversary for mom and dad you've been planning for months, or even just a weekend dinner party, Fineline Settings is excited and committed to showing you just how fantastic your celebrations can be.
We're happy knowing that, as our customers, not only will you feel confident that your event will be beautiful and elegant, but you can enjoy your celebration with a clean conscience as you serve your guests on plates, flatware, and platters that are fully recyclable anywhere a facility is available! What better way to celebrate the budding green renewal of nature than keeping your impact on the environment low and knowing that your event will still be nothing less than stunning? Who knew recyclable could look this good?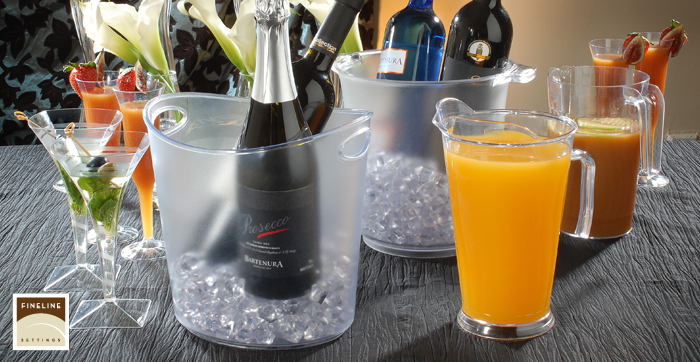 We know that no matter the season: you are stylish, you are chic, and we know that above all else your tastes are aligned with quality, elegance and distinction. Because of this, we know that you will find your kindred spirit in premium disposable products.
While spring is the time of new beginnings, we are always and forever committed to providing you with the same quality products as we have always done; and to surprise and delight our customers with the new and exciting designs that will be fun, provoking, and always elegant.
We're looking forward to accenting all of your spring events with products that suit any food presentation situation you look to achieve. We know that our customers will serve their guests with confidence, knowing that their special occasions will shine with tasteful and elegant distinction.
Our company is excited to welcome another great season, and continue our excellence in quality to help you make your fabulous and special event a cut above the rest.
All of us here at Fineline Settings hopes that your spring is full of happiness, health and style, and we can't wait to show you what's next!
We found a few wonderful folks who have managed to bring beauty and elegance to DIY and naturally, we knew we just had to share our findings with you that could help inspire and awaken your creativety!
CentsationalGirl.com has shown several beautiful design ideas for all types of events for all season!
We also found realsimple.com, and fell head over heels for their quick "5-Minute Centerpiece Ideas" and couldn't wait to share them with you!