The American culture revolves around hard work; our unshakable commitment to our professions has been so deeply engrained in our characters that giving 150% to our 9-5 is only natural. We all do our best to bear the stresses placed upon us day-to-day without complaint, but try as we might, we all get burnt out and run down.
Due to our country's venture toward progress, and our reverence for the sweat on one's brows, it was only a matter of time before someone decided that we all deserved a little bit of a pat on the back. That's why, over one hundred years ago, the concept of a special day in honor of every hard-working American was suggested by a Gentleman by the surname of McGuire back in 1882!
He proposed to the higher-ups a very near and dear holiday to all of our hearts; one that repays our hard work with a little well-deserved reprieve. If you're glancing up at your calendars, then no doubt you have the first Monday of September circled in a bright yellow highlighter with a few exclamation points and maybe a smiley face or two thrown in because it's just that awesome of a day!
Yes, the for mentioned day is when most of us get the chance to relax, enjoy some major retail sales, and shake away some of the stress that a two-day weekend might not have entirely been exorcised!
With Labor Day weekend shambling toward us, that means it's time to get our "host" on and start prepping for a party that will make us 'remember, remember the 1st of September'!
So, come one and all, and let's make this Labor Day labor free and enjoy our R & R with a bit of Fineline flair!
A barbeque is the first and most common gathering associated with this particular holiday; throwing hot dogs and hamburgers on the grill while enjoying one of the last days of summer with friends by the pool is the idiom of a day deigned for rest and relaxation! Fineline Settings agrees that it doesn't need to be Foie gras or roast lamb that makes a summer soiree chic and classy; because all of your meal ideas can be heightened with just a simple FLS touch!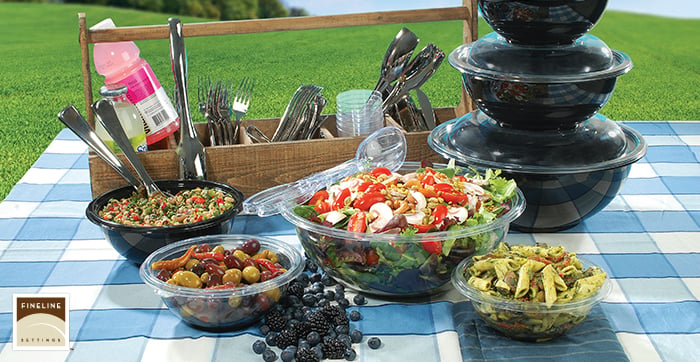 Serve your mom's macaroni salad in a 100 Oz. Serving Bowl from our Platter Pleasers collection; or pour out some of Uncle Larry's special fruit punch and let your guests sip with sass from our Renaissance Crystal Tumblers!
As you can see, it doesn't matter whether it's a family gathering of ten people, or a fundraiser of three hundred; no matter the occasion, we're here to help make your entertaining dreams a reality- without the stress or mess of dealing with the hassle of glass or porcelain. Get the look and feel of fine china with the benefit of disposability! We promise that you'll spend more time cleaning the grill than cleaning the dinner dishes; and who can argue with that?
With this being one of the more popular party holidays, it wasn't hard to find tons of fantastic Labor Day recipe and party ideas; so we did our best to review as many as we could and bring the collection of what we felt was the best together for your convenience!
Our first entry of awesome is from our friends at 'Hao Chi – Twin Cities Dining Adventures'. They're, quite literally, cooking up a storm in their blog post: In the Kitchen – Labor Day Weekend Edition!
From their Stuffed Poblano Peppers recipe, to their Bacon Black Beans, these recipes will be having your tastes buds working overtime!
The next ring in this fabulous feasting circus: the amazing Elana, founder of the aptly named blog 'elana's pantry'! She's here for those of you trying to make your party a healthy one! With her many recipes like Fruit Salad, Green Chili Turkey Burgers, and Cherry Blueberry Crumble, this savvi lady has exactly what you need for every course!
Rounding out these heavy hitters are Chelsea and Ginny, who run their blog 'Whatcha Makin' Now?'. We figured no Labor Day would be complete without a fun drink to sip while the fireflies start to flicker in the twilight; so take a look (and a taste) of their Strawberry Lemonade Beer!
For once, we all can look forward to Monday; and we can all utter a little thanks to Mr. McGuire for his hand in it! We here at Fineline Settings are determined to always help make all of your events, no matter how big or small, stylish and easy!
Have a great day, everybody!