Weddings are one of my favorite celebrations since there is so much beauty involved on so many levels. I've been inspired to create a Something Blue Wedding Tablescape using elegant and affordable partyware from Fineline Settings. According to some wedding experts, mixed shades of blue is a popular color palette for weddings in 2019. With this in mind, I wanted to style an inviting table filled with gorgeous and romantic elements that would be perfect for this occasion.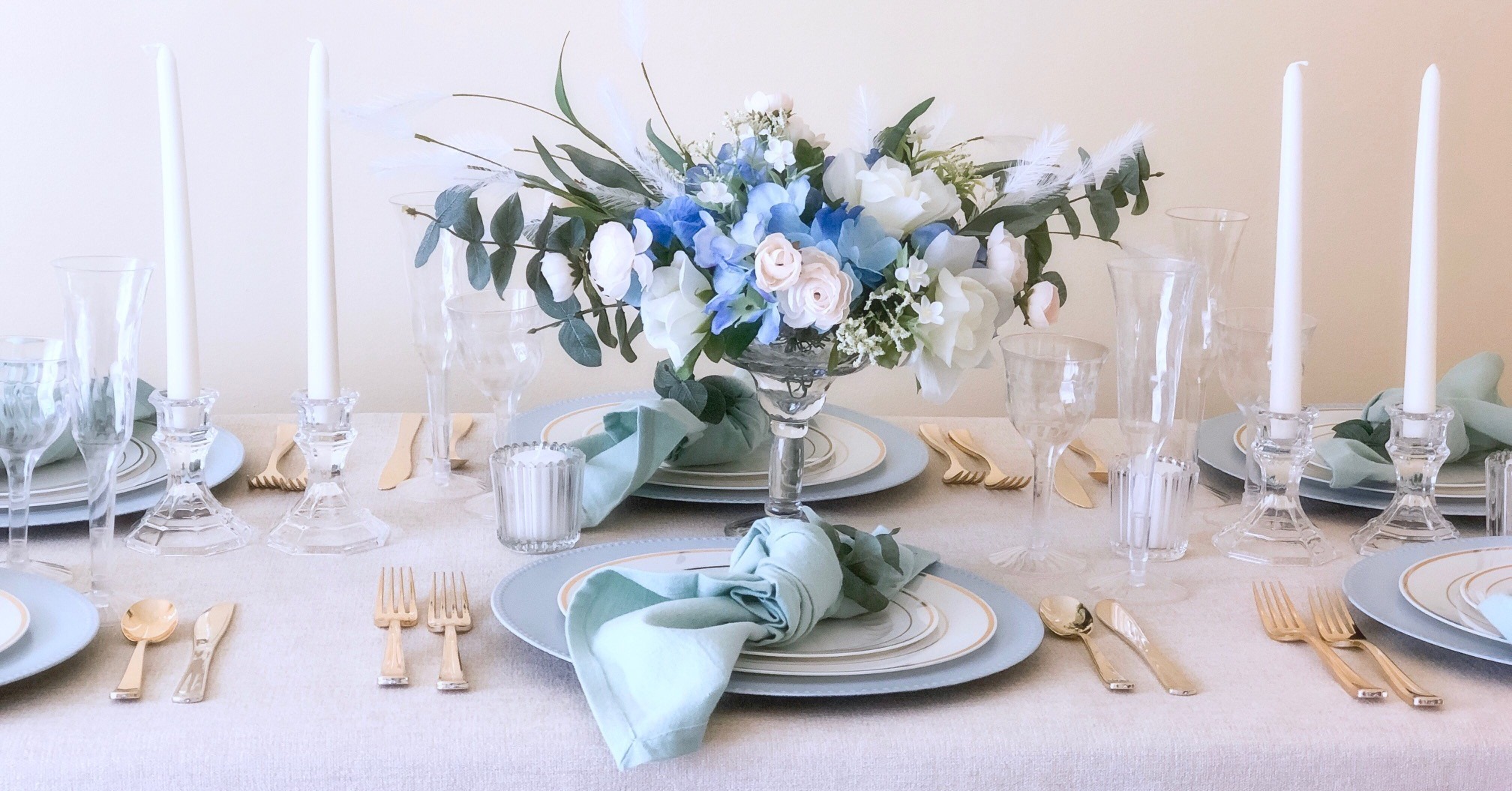 To start off, I used pedestal arrangements for the centerpieces since they are also another popular trend for weddings this year. I chose glass pedestals to go along with the glass candle holders. For the flowers, I used blue hydrangeas to stick with the color palette. I also used different size roses in white and light pink to add some complimentary contrast. Roses are classic weddings flowers and always make a situation more romantic. Grass is another popular element in wedding décor in 2019 so I added a few grass sprigs for drama and texture. I filled in the rest of my arrangement with different greenery and smaller floral pieces to bring it all together.
Then I added some candles in short votives and tall tapered candles in between the floral arrangements to make it even dreamier. A candlelit dinner or lunch always makes for an intimate dining experience, right?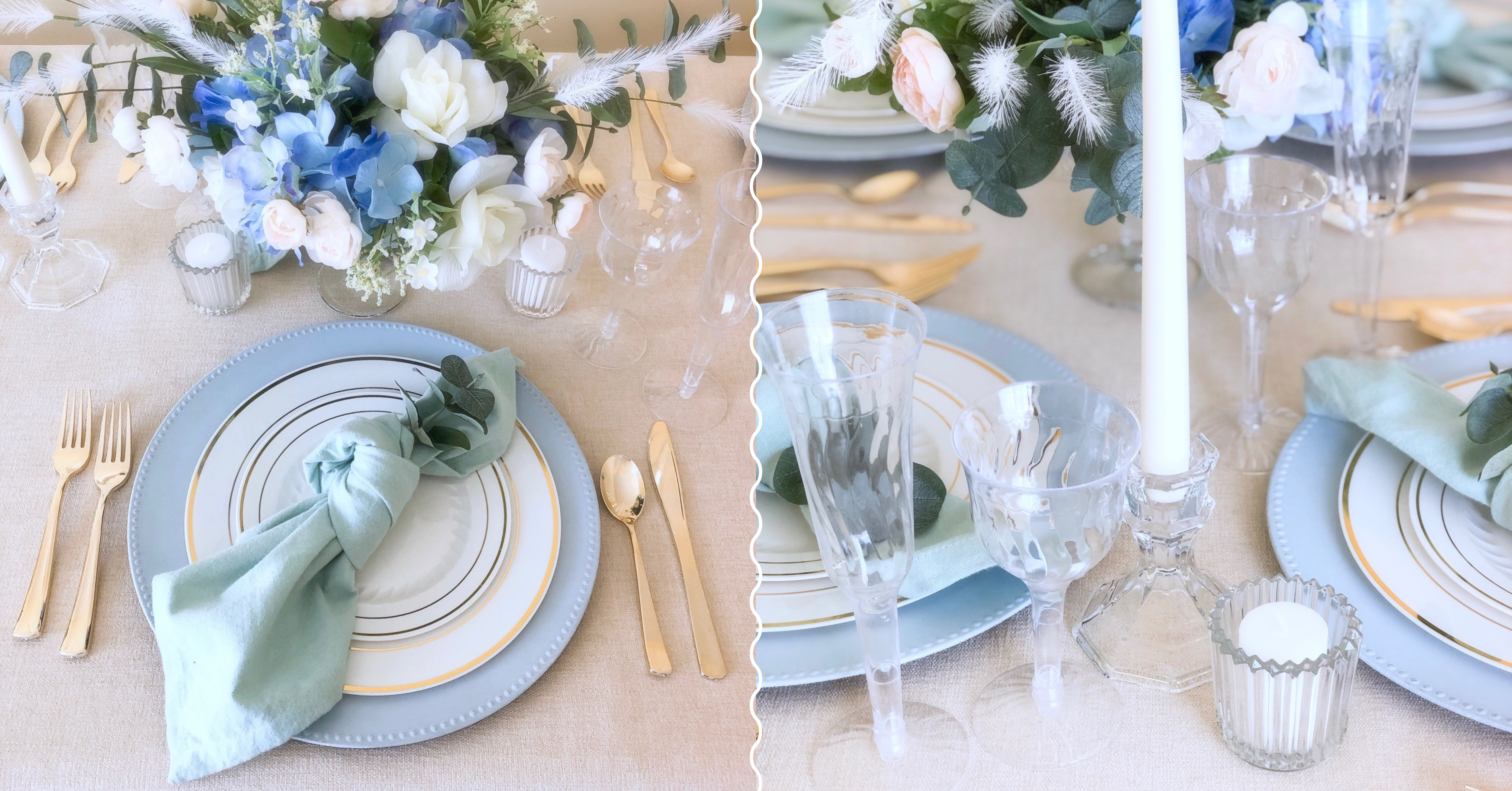 For the place setting, I started with a dusty blue charger and then layered on the Caterer Choice 10" and 7" bone plates with gold trim. I like how it comes in a combo pack which makes it easy to use. Then I simply placed a knotted blue napkin over the top to keep with our blue color theme. I added the Golden Secrets gold cutlery that also comes in a combo pack of forks, spoons, and knives to either side of the plates. For drinks, I used the Flairware 8 oz 1 piece wine goblet and Flairware 5 oz 2 piece champagne flutes which is perfect for water and a toasting beverage.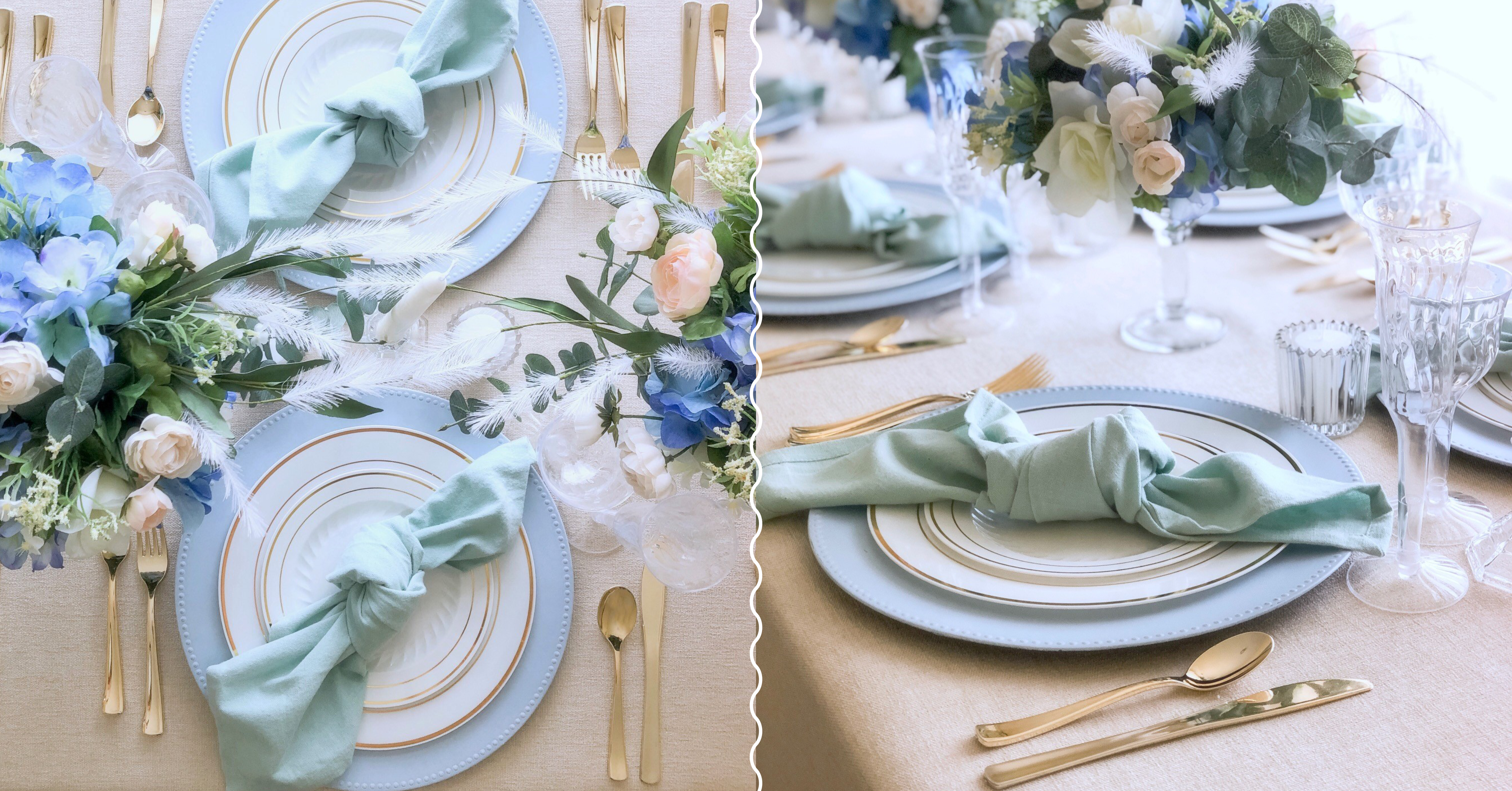 That completes the Something Blue Wedding Tablescape with mixed shades of blue and romantic elements that will be sure to invite love into a room. The partyware from Fineline Settings really helps set the table for a gorgeous and memorable celebration. You will look back and have no regrets about the beauty of your tablescapes!