SHAPE IS BEAUTIFUL. With such a simple concept, the entire motif or mood of a tablescape can change drastically from classic and elegant, to modern and stylish.
If you've been searching for a chic new spin on your table for your next event, then this fall 2015 will be your most favorite Fineline year yet! We've combined both classic and complimentary colors with edges that will put you way ahead of the curve.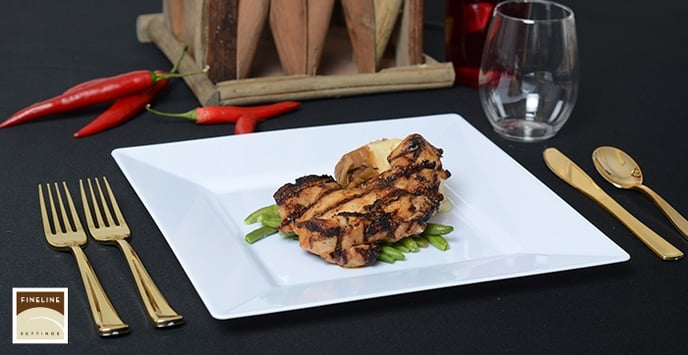 What are we talking about? Well, Fineline is thrilled to introduce our BRAND NEW COLLECTION…
SOLID SQUARES
…Plates & Bowls…
Our newest array of angular archetypes in food service will have you and your guests celebrating sharp new style that will compliment any event motif or menu idea! Take a look at the amazing possibilities that this new powerhouse collection has to off your next soiree.
THREE BOLD BUT COMPLIMENTARY COLORS!

MULTIPLE SIZES FOR CONGRUENCY THROUGH EVERY COURSE!

AVAILABLE IN BOTH BOWLS AND PLATES!

SHAPED WITH HIGHLY DURABLE POLYSTYRENE PLASTIC!

FULLY RECYCLABLE OR REUSABLE!

PRINT-ON-PRODUCT COMPATIBLE!

HIGH-GLOSS FINISH THAT REDEFINES DISPOSABLE!
With this addition to your catering arsenal, you'll bring both grace, elegance and a modern edge to your table array! Marry your sharp style with the classic subtly that you love without ever sacrificing quality for convenience! Let your guests dine on dinnerware that is virtually crack-proof, and then toss them away at the end of the night so that you can spend more time reminiscing than rinsing!
We look forward to accompanying you through this upcoming holiday season; and we know you'll be a super star at all of your events! You can cater with confidence because you know that we'll be there to help you every step of the way! Make sure you let us know what you think of this new collection, because we wouldn't be here without your feedback, and we loving from you!
Happy Fall 2015, Friends!